PBS Kids' 'Nature Cat' Goes on a White Water Rafting Adventure (VIDEO)
Got kids at home and need to keep them entertained? Tune into Nature Cat when PBS KIDS airs a one-hour special that will showcase four new 11-minute stories with furry friends Nature Cat, Squeeks, Daisy and Hal (all voiced by Saturday Night Live alums) banding together on adventures in the great outdoors.
RELATED: Celebrate Steven Universe's Birthday Week With All-New Eps
The series, geared toward ages 3 to 8, encourages them to have more fun outside and also teaches them about scientific ideas in the context of nature.
Before the one-hour special airs, read descriptions of the four short segments and catch an exclusive sneak peek of the "Stream and Shout" story below.
"Hal's Day Off" – After a silly mishap leaves Hal alone in the big city (well, he does have his chew-toy Mr. Chewinsky with him), it's up to Nature Cat, Squeeks and Daisy to make their way to the city and find Hal. Tally ho! Even though Hal is having so much fun sightseeing, he will need to get home somehow. When Nature Cat, Squeeks and Daisy can't locate Hal, they turn to animals that they never even knew lived in the city for help.

"Stream and Shout" – Nature Cat goes to his Nature Curiosity List for inspiration, and finds number 73: "Where do streams begin?" This seemingly simple question leads the gang on an action-packed adventure, as they follow the stream uphill, exploring new environments and meeting all sorts of friendly critters. When they finally find out where the stream begins they are whoa-ho-ho amazed!

"Travelin' Seeds" – When Daisy finds a beautiful flower in her garden that she didn't plant, it's up to Nature Cat and his pals to find out where the flower came from. Their investigation leads them through the park and into the woods where the clues show them that seeds can actually travel far distances and grow where they land.

"Tally Ho! A Rainbow" – After a rainstorm (Nature Cat is sure glad it's over!) Daisy wants to capture a picture of a rainbow for her Granny Bunny who just loves rainbows. But finding a rainbow is easier said than done, as the four friends trek all over in search of it.
[jwplatform 2Pp88D0Q]
Nature Cat, Monday, Jan. 18, PBS (check local listings)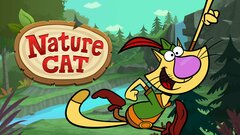 Powered by