Jessie James Decker Dishes on Her Hit Reality Show and New Album (VIDEO)
Jessie James Decker is a singer, reality TV star and a mom-of-two. Her life tip for balancing it all: prioritizing.
Decker revealed to TV Insider, "I find that if you prioritize and really stick with it, then it's not too difficult when it's time to make those decisions. So for me, I put the kids first, their well-being. I want to be one to drop them off at school, pick them up at school, make their lunches."
You may recognize Decker from her hit reality show on E!, Eric & Jessie (in its third season) or from singing the national anthem at her husband's football games. Eric Decker is a wide receiver for the Tennessee Titans.
Plus, the 29-year-old just released her second studio album, Southern Girl City Lights, and has an in-demand clothing line, Kittenish.
We chatted with Decker about everything from her musical influences, to whether or not there could be a Season 4 of her E! serires in the works, to how a third baby will change her family's life. The singer announced she was expecting in the most adorable way possible.
"We know what it is but we're just not telling anyone yet and we are very, very excited about it," she teased about the pregnancy.
As for the second half of Eric & Jessie she said, "[Fans] will see my sister's baby shower for her little girl. It's a very beautiful shower and it's very sentimental. You will see me take a pregnancy test. You will see me performing at the Grand Ole Opry in the finale and just a lot more family stuff."
Switching gears to talk music, Southern Girl is only Decker's second album. Her first, Jessie James, came out in 2009. "I think I have so many different influences because I grew up in different places, and my mom and dad had such eclectic tastes," she said. "I loved the '80s, but I was also obsessed with the '60s and the '70s. And loved '90s female country artists. [On my record] every song is so unique, but it somehow fits all together. I didn't want to put myself in a box."
But unfortunately, don't expect Decker to tour soon. Her third child is due in March 2018, and she wants time to recover.
"I did tour after I had Bubs (Eric Decker Jr.)," she said. "I think it was 5 or 6 months after I had given birth, and I have to say even though it was a very successful tour, even though it was sold out, it was too hard and I don't think I should do that again. I will tour after I'm done breastfeeding. It was just too much on my body."
Watch our whole Facebook Live interview with Jessie James Decker here:
Eric & Jessie, Wednesdays, 10/9c, E!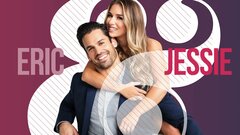 Powered by