What's Worth Watching: 'I Love Lucy' on CBS for Wednesday, December 23
I Love Lucy Christmas Special, Wednesday, Dec. 23, 8/7c, CBS
For the third year in a row, CBS digs into its comedy archives for some holiday treats from the landmark 1950s hit I Love Lucy with back-to-back episodes. Once again, the long-out-of-circulation The Christmas Episode from 1956 leads off the program, colorized with a vintage '50s tint, this time including flashback sequences, including the night Lucy told Ricky she was pregnant (which in its day was unheard of for a leading character on TV).
It's paired this year with one of the all-time greats: "Lucy Does a TV Commercial," in which Lucille Ball performs one of the most memorable drunk acts ever, getting progressively and hilariously looped as she demonstrates a product called Viteameatavegamin ("It's so tasty, too! Just like candy!") that is laced with 23% alcohol. Lucy's mastery of physical comedy is at its best in this 1952 instant classic, and no matter how many times you see her "spoon her way to health," it's impossible not to crack up.
INSIDE WEDNESDAY TV: I'm glad the Viteameatavegamin episode comes second, because I'll probably spend the first half-hour of prime time with NBC's rebroadcast of the beloved 1966 animated special How the Grinch Stole Christmas (8/7c), Chuck Jones' masterful adaptation of the Dr. Seuss story, with Boris Karloff providing the sonorous voice of the grouchy Grinch. Your heart may grow several sizes just hearing that opening tune. … NBC is also repeating its very successful Adele Live in New York City special (9/8c), with more than 11 million viewers in its first showing making it the highest-rated network concert special in a decade. … truTV's competition series Santas in the Barn (9/8c) begins its two-part season finale, with the remaining candidates for America's Best Santa subjecting themselves to their toughest audience yet: kids in a mall.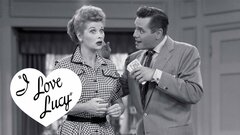 Powered by