'Outlander' Casts 'American Odyssey' Actor Richard Rankin
Outlander's getting some new blood. Fresh off a Golden Globe nod for best drama series, the Starz show has announced the addition of Scottish actor Richard Rankin for season two.
Rankin will play Roger Wakefield, a role Starz describes as a fan favorite from the book series from which the show is adapted. "Intelligent, kindhearted, and charming, Roger is the grown up version of Reverend Wakefield's adorable adopted son we met in Season One," the network wrote in a press release. " After his parents died in World War II, Roger was raised by the Reverend (with help from his housekeeper, Mrs. Graham) and is a proud Scot through and through. Now a professor at Oxford, Roger has a keen interest in history, and all the secrets and insight it presents."
RELATED: Watch the Season 2 Trailer for Outlander
Rankin appeared in the cancelled NBC series American Odyssey earlier this year, and also acted alongside Bradley Cooper in the fall box office flop Burnt. He's also appeared in BBC's The Syndicate and The Crimson Field. Other credits include the shows Burnistoun, From Darkness and Thirteen.
Currently filming, Outlander will return in spring of next year.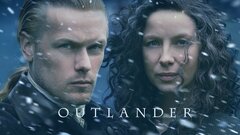 Powered by