'Brooklyn Nine-Nine': Can Amy Brave the Polar Bear Plunge? (VIDEO)
Det. Amy Santiago (Melissa Fumero) is heading for some cold waters on this Sunday's all new Brooklyn Nine-Nine.
When she overhears Capt. Holt (Andre Braugher) and Det. Rosa Diaz (Stephanie Beatriz) are planning to participate in the annual polar bear swim, Amy sets out to prove she can tough it out in the frigid conditions. However, Holt and Diaz are a little more skeptical of Amy's endurance and have specific evidence to prove it.
PHOTOS: Brooklyn Nine-Nine and 31 Others Snubbed by the Golden Globes
Watch the exclusive video clip below of this upcoming Sunday's episode.
Brooklyn Nine-Nine airs Sundays at 8:30/7:30c on Fox.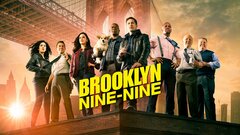 Powered by