What's On: 'Mindhunter,' 'Lore' and 'Exorcist' on Friday the 13th, Return of 'Crazy Ex,' 'Jane,' 'Good Behavior'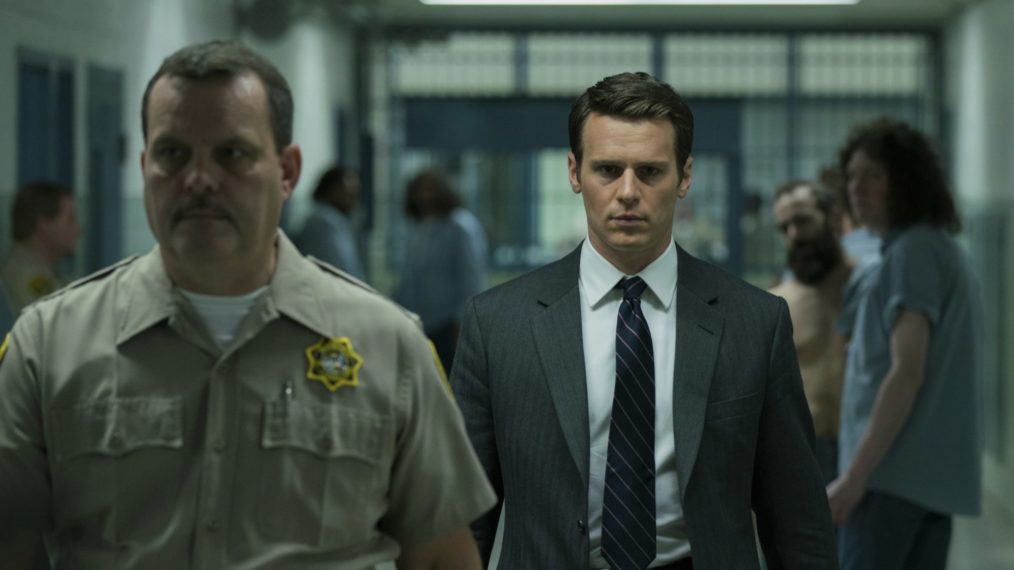 A critical checklist of notable weekend TV:
Mindhunter (Friday, Netflix): First chance I get, I know what I'm binge-watching: director David Fincher and creator Joe Penhall's cerebral, chillingly absorbing fact-based crime drama about pioneering FBI agent Holden Ford (a boyishly earnest Jonathan Groff nicely playing against type), who convinces his bosses and his jaded partner, Bill Tench (Holt McCallany) that interviewing serial killers—a term not yet coined in the late 1970s—will help them apprehend other human monsters. Ford starts with the so-called "Co-Ed Killer," the creepily friendly and unnervingly intelligent Edmund Kemper (Cameron Britton), who blithely brags from prison, "It's not easy butchering people; it's hard work." Judging from the first two episodes (all that was made available for preview), Mindhunter is all the more powerful for shirking cheap-shock sensation despite the grisly subject matter. Without the breakthroughs portrayed here, Clarice Starling might never have met Hannibal Lecter.
Lore (Friday, Hulu): Based on a popular podcast, this six-part series explores the real-life origins of some of the most fantastical urban legends and superstitious myths that have pervaded world culture: vampirism, premature burials, changelings, werewolves, possessed dolls. Using documentary and historical elements, enhanced by dramatic re-enactments and animation, Lore is intriguing, but the cheesiness of the dramatic scenes leaves you thinking the material may be better suited to a podcast that leaves more to the imagination.
The Exorcist (Friday, 9/8c, Fox): Perhaps best suited for Friday the 13th is a new episode of the horror series that is taking its time bringing its title heroes (Alfonso Herrera as Father Tomas and Ben Daniels as the defrocked Marcus) into the main storyline involving a cursed island of foster kids under the care of kindly widower Andy Kim (John Cho). The path takes the squabbling Fathers to Seattle, where they tackle a particularly puzzling case of possession—watch out for that spewing pea soup—that catches the attention of social worker Rose (Li Jun Li), who's just come from the island. An homage to a Hitchcock classic is the high point of the episode, which also includes more Vatican voodoo involving Father Bennett (Kurt Egyiawan) and a new ally (the always exotic Zuleikha Robinson).
Crazy Ex-Girlfriend (Friday, 8/7c, The CW): Hell hath no fury like a scorned Rebecca Bunch (Rachel Bloom), who was left at the altar in last season's finale by Josh (Vincent Rodriguez III), fleeing to pursue a surprise calling to the priesthood. In case your memory is hazy, a Galavant-style musical recap kicks off the third season of this underrated gem. When Rebecca emerges from a transformative exile, she enlists her best buds Paula (Donna Lynne Champlin), Heather (Vella Lovell) and former rival Valencia (Gabrielle Ruiz) into her twisted, and tuneful, revenge schemes. Followed by the fourth-season opener of Jane the Virgin (9/8c), in which Jane (Gina Rodriguez) is reunited with her first love (Teen Wolf's Tyler Posey), to the chagrin of her family.
Good Behavior (Sunday, 10/9c, TNT): The ironically titled Southern noir is back for a second season, starring Downton Abbey's Michelle Dockery as the very bad Letty, a thief on the run with the even worse, but smoking hot, hit man Javier (Juan Diego Botto). They set up torrid house with her son, Jacob (Nyles Julian Steele), in hopes of starting over with a veneer of normalcy. But peek into their garage, where she's stashing stolen goods and he has a body in the trunk of his truck, and you have to figure it won't be long before they're back on the radar of a crusty FBI agent, played to hilarious effect by Emmy winner (for The Handmaid's Tale) Ann Dowd.
Also returning for second seasons on Sunday: Masterpiece's delightfully escapist The Durrells in Corfu (8/7c, PBS, check local listings at pbs.org), and the Epix spy thriller Berlin Station (9/8c). On Saturday, BBC America's fantasy-comedy romp Dirk Gently's Holistic Detective Agency (9/8c) kicks off a bizarre sophomore season.
Inside Weekend TV: PBS's Great Performances lives up its billing with the all-star Grammy Salute to Music Legends 2017 (Friday, 9/8c, check local listings at pbs.org), honoring Lifetime Achievement Award recipients Shirley Caesar, Ahmad Jamal, Charley Pride, Jimmie Rodgers, Nina Simone, Sly Stone and the Velvet Underground. … More music of a Latin flavor in a benefit concert and telethon, One Voice: Somos Live!, simulcast Saturday (8/7c) on Telemundo and Univision, with NBC carrying the third hour, broadcast in English, at 10/9c. Among the performers: Marc Anthony in Miami, with Jennifer Lopez, Demi Lovato, Maroon 5, Ricky Martin, Gwen Stefani and Stevie Wonder in Los Angeles. … Comet's new look will be unveiled amid many life changes in the two-hour series finale of AMC's tech drama Halt and Catch Fire (Saturday, 9/8c). … In the two-hour season finale of AMC's Fear the Walking Dead (Sunday, 9/8c), a new threat descends on the dam, revealing Strand's (Colman Domingo) true intentions. And Madison (Kim Dickens) comes to a "horrifying revelation"—could it be that she brings disaster wherever she goes, and that her son Nick (Frank Dillane) may be the single most aggravating character on either Walking Dead series?