'The Leftovers' Gets Renewed for a Third (and Final) Season
Fans of Damon Lindelof and Tom Perrotta's The Leftovers can rejoice: HBO just picked up the series for an extra season season.
Speaking about why the third season will also be its last, Lindelof shared:
"Tom, myself and our incredible team of writers and producers put tremendous care into designing those seasons as novels unto themselves…with beginnings, middles and ends. As we finished our most recent season, it became clear to us that the series as a whole was following the same model…and with our beginning and middle complete, the most exciting thing for us as storytellers would be to bring The Leftovers to a definitive end. And by 'definitive,' we mean 'wildly ambiguous but hopefully mega-emotional,' as all things related to this show are destined to be."
Nothing is known yet about the storyline for Season 3, but Season 2 intersected the stories of two families, the Garveys and the Murphys, and focused on the Texas town of "Miracle," where those left behind from The Departure lived together.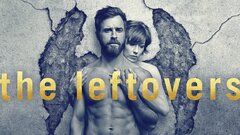 Powered by