Coat of Many Colors': Sugarland's Jennifer Nettles on the Challenges of Portraying Dolly Parton's Mother
Country gal Jennifer Nettles recently went from playing jazz slayer Roxie Hart in Chicago on Broadway to literally sewing Dolly Parton's Coat of Many Colors on NBC. The Sugarland songstress tells us what it was like to play the mother of one of music's biggest superstars (NBC, Thursday, 9/8c).
What do you remember about hearing "Coat of Many Colors" for the first time?
I know I was a child, obviously, and all of Dolly's music was so ubiquitous. It was everywhere where I was from, in Douglas, Georgia, and so I really feel like it is part of the tapestry of my own life. I love what [the creators] are doing conceptually and her songs are so cinematic already. When you hear them, you can see them. You can see the story that's happening and I think that's why they lend themselves so much to being interpreted in this medium.
Do you have a favorite Dolly song?
There are so many that are good. I love "Jolene." I love that one so much, I would be remiss if I didn't mention it, and I would be foolish if I didn't say "I Will Always Love You"; what a beautiful song with such a wonderful message, and "9 to 5." I loved that.
How was this different than playing Roxie Hart?
I go from killing my boyfriend and blaming my husband to playing a good Christian mama. Hey, that's range. [Laughs] We are all things in this world; we have all parts of us, and I have been blessed to be able to play the parts that I have so far. And I look forward to hopefully doing more.
What did you think of the story behind the movie Coat of Many Colors?
I thought it was beautiful. I knew a little bit of the backstory because it is part of her story: her mama made the coat for her and obviously they came from a super poor Appalachian family. I did not know the part about her baby brother Larry passing. I was just so touched and moved by it, and I loved that it is a faith-based story, but told within the context of a more current family. We're not talking B.C. here, we're talking in the past 60 years. I thought that was an interesting interpretation of a faith-based story, and how people all go on their journeys and their own search for themselves and for their identities and to get through pain. And this particular family obviously did it with a strong mama with a strong faith and a loving couple of parents, and I thought it was beautiful.
If you were starting your career and somebody had told you, you're going to be in a movie playing Dolly Parton's mama, what would you have thought?
We can never write stories as magnificently as they end up playing out in our lives, but as far as doing a movie and acting, I love and have always loved all of the performing arts. I grew up in theater, as well as music, and have always loved it. This is my first full-length film, but storytelling is really what it is. And I love that; that's what I love about the performing arts. Now what's fun for me and different than what I call my day job, which is being a singer/songwriter, is that on a song you have three and a half minutes to tell a story arc. And you've got to really get to that nugget of emotion in the story so that you'll get somebody's attention and keep it. And this is getting to explore a character in a more detailed way, which is just so fun and refreshing. I love it.
What have you heard from Dolly?
She's sent me a couple of really sweet notes which I will cherish forever, just about how proud she was about the good job that I was doing and about how very much I had nailed the persona of her mother, which is such a high compliment because your mama is somebody super special to you, and she had such a wonderful relationship and a close relationship with hers that I definitely wanted to do that character honor. I loved that she feels that I might have come close to that.
Do you think this movie will become a Christmas perennial?
I think so. I think it's neat to have something that has all of that same goodwill and generosity of spirit that does tell a story of a beautiful rebirthing of this family and not specifically the 'Christmas' story.
How does saying "Dolly Parton" open the door for projects?
Let me tell you something: everybody loves her so much, the excitement that I have seen surrounding this project has definitely underscored for me what I knew, and I love getting to be a part of that just by association. Just to be able to witness that goodwill so closely because people love her for her authenticity, for being herself and for that sweet, bright, generous spirit that she is in the world.
What did you think of Alyvia Alyn Lind as Little Dolly?
She is so smart and so capable, and I think she is perfect for Little Dolly. I think her energy, her bubbliness—all of the parts of Dolly that we love—she has that spirit and she has that heart and she has that energy about her. And she just shines.
Do you sing in the movie?
A little bit within the context of it, because they were a very musical family. They all played instruments and, obviously, coming up in church music was super important to their family. It's really fun; there are a couple of moments where music is important in carrying the story.
Would you like more acting roles after this?
I would love to do more. I've been really spoiled by this experience, I gotta tell you—because everybody around me has been so positive and so encouraging—it has felt, artistically, pretty cathartic for me, and I would love to do more. I hope that people can see me and see a new part of how I like to tell stories.
Maybe a song you've written can be made into a movie?
Oh Lord, yeah, there you go. That'd be fun.
[jwplatform 80G7i1k0]
Dolly Parton's Coat of Many Colors, Thursday, Dec. 10, 9/8c, NBC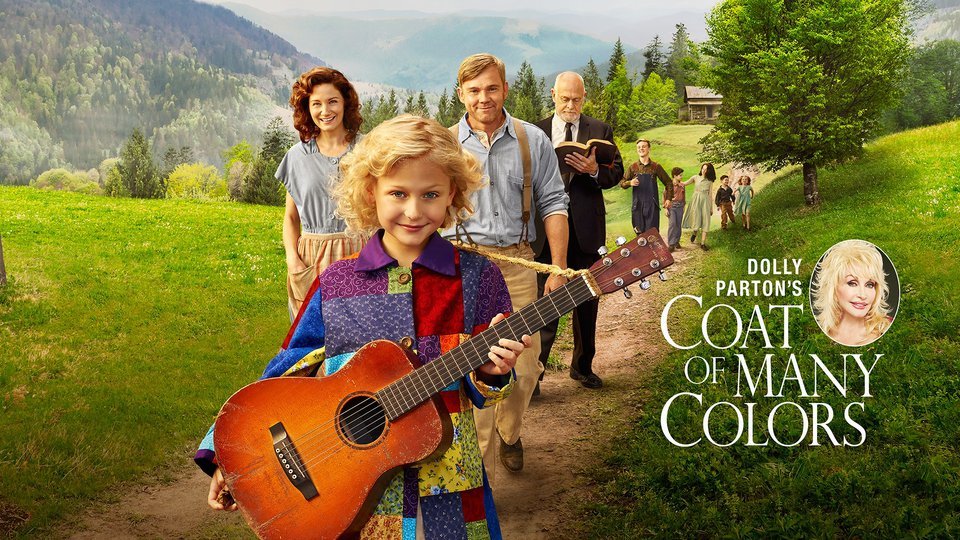 Powered by