'Dolly Parton's Coat of Many Colors' Hits a High Note for Feel-Good Family Values and Inspiration
During a break on the Georgia set of Dolly Parton's Coat of Many Colors, Alyvia Alyn Lind—who portrays the legendary country singer at the tender age of 9—can't seem to get a certain song out of her head. She sits on a stool, pumping her arms to music that only she can hear, and later confesses, "I was dancing to 'Shake It Off' from Taylor Swift."
Big Dolly, as the superstar is known on the set, is in stitches over this. "That was kind of a betrayal for Dolly, wasn't it?" Parton says. "Why wasn't she singing 'Jolene' or something? I'm joking! That's a cute song, too. I'm sure she needed to shake it off between takes."
Actually, the scene Lind just wrapped was a happy one in which Little Dolly tries on the titular unfinished coat, thanks to her mama "sewin' every piece with love," as the classic 1971 song goes. But the rags-really-can-be-riches tale weaves in deep tragedies that the family couldn't simply shake off (including a sibling loss that devastated the loving brood) during Parton's trying childhood in Locust Ridge, Tennessee, in 1955.
"There should be a hankie alert before the movie, but you'll laugh a lot, too," says Pamela K. Long, Coat's writer and one of its executive producers. "We get to understand how Dolly became Dolly. She sees she has a place out in the whole big world, because how do you go from where she came from to where she [is]?" The faith-based tale is one of four two-hour projects that Parton, now 69, and her colleagues pitched to NBC. "I always had the idea that a lot of my songs would make great movies," Parton says."They all tell stories."
The second movie is slated to be the man-stealing missive Jolene, due out next fall, with a script by John Sacret Young (China Beach). "The Seeker," one of her most spiritual songs, forms the basis of the third, with a fourth still being determined.
But "Coat of Many Colors" remains her longtime favorite. In the classic tune, Parton's mama compares her garment made from scraps to Joseph's in the Bible, making Little Dolly proud to wear it. Parton remembers: "It was very gaudy and loud and bright. The kids all made fun of me, and I couldn't understand that. I was embarrassed and hurt and was mad at Mama because I felt she'd deceived me."
Parton says she's turned down many previous offers to turn the ballad into a movie, but doing it now "just seemed right—bringing back some family values and the anti-bullying [message]," she says. "I just wanted it to be an inspiration. Remember how we used to love The Waltons and Little House on the Prairie? This movie's got a lot of those elements in it."
For Coat, Parton contributes an intro and epilogue and narrates a few montages (as well as executive produces). And it's clear from her verve that Little Dolly is definitely cut from the same cloth as Big Dolly. "One day I was in the hair-and-makeup room," Lind recalls, "and they just did this one curl up, and I looked at a picture of Dolly], and we looked like twins! It was so crazy! I could not see any difference between us."
Lind was picked from nationwide auditions to play the young Parton. She'd only turned 8 when filming began and was thrilled to be "playing older." Like Big Dolly ("Well, I'm not very big, but I'm a little bigger than her right now"), she pens songs and performs for her family, but she's in awe of Parton: "How does she write such touching, meaningful songs like that?" In the film, Lind and an unseen Parton will duet on a new song the latter wrote called "Angel Hill."
Jennifer Nettles, another singer/songwriter who made her name with the multiplatinum-selling Atlanta duo Sugarland and recently played Roxie Hart in Broadway's Chicago, sent in an audition tape for the role of Avie Lee Parton. "We didn't even know she acted," Parton says. "I said, 'That's Mama.'" Nettles jokes that she "might have carpal tunnel after all this fake sewing! I go from killing my boyfriend and blaming my husband [in Chicago] to playing a good Christian mama. Hey—that's range."
Nettles also gets to sing in the film. "I loved that it is a faith-based story but told within the context of a more current family," she says. "We're not talking B.C. here; we're talking in the past 60 years. They all go on their journeys and their own search for themselves."
Nettles's costar heartily agrees with her on that point. "The beautiful thing about the movie is that Dolly learns to love those who bullied her, and she brings out the best in them," says Ricky Schroder (NYPD Blue), who plays Parton's father, Lee. Schroder says that Parton, already the No. 1 artist on his wife Andrea's playlist, shared with him that her father, a tobacco farmer, "loved the ladies and the ladies loved him."
Parton's real-life younger sis Stella appears as a church lady/busybody who initially brings the box of rags to the Partons. "My sister called and said, 'There's a part in here. Do you want to read for it?'" Stella says. "I said, 'Well, sure.' She said, 'You can't be pretty in it.'" Stella also assisted the prop masters in making homemade toys like the ones she had as a child and helped the actors understand her family. "Poverty of mind is a lot worse than poverty of the pocketbook," Stella says, "so we were very rich, as far as I could tell, because we had loving, nurturing parents." Through her mama's love, Dolly learned to forgive, but she'll never forget.
[jwplatform 80G7i1k0]
Dolly Parton's Coat of Many Colors, Thursday, Dec. 10, 9/8c, NBC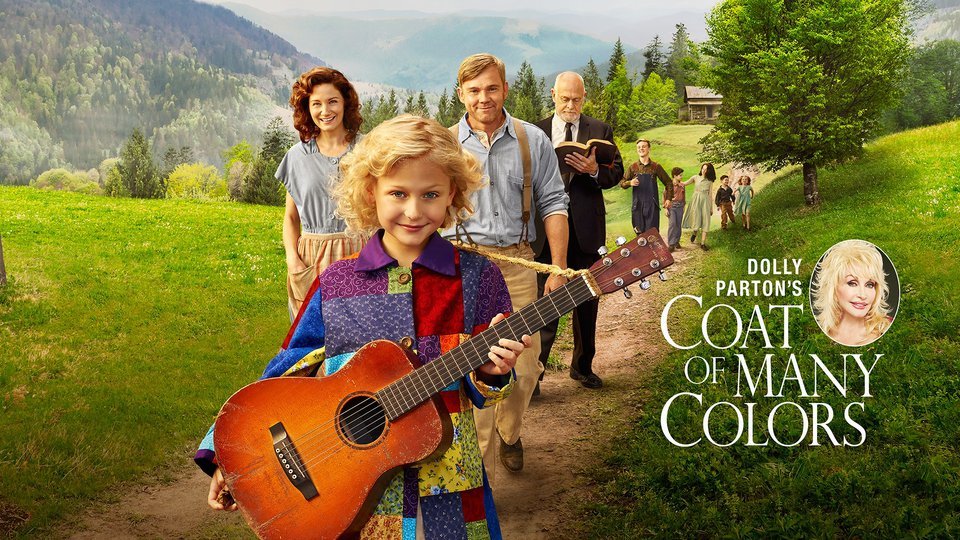 Powered by