'The League' Finale Will Include a Special Guest From Season 1 and a Look at the Characters' Futures
After seven seasons, FXX's foul-mouthed fantasy football-centered comedy The League is coming to an end. For 83 episodes (84 after tonight) since its debut in 2009, we've laughed, cried and cringed along with the show that gave us phrases like "zipper fairies" and "eskimo brothers," a dictionary's worth of trash-talking terms, ideas like naming your child Chalupa Batman and the ingenious bathroom cubby.
We spoke with creators (and married folks), Jackie and Jeff Schaffer about tonight's (December 9) finale, in which the whole gang will compete one final time for the Shiva… and the Sacko.
What should we expect in the finale?
Jeff: Well, we could not have a final for the Shiva, without having Shiva. So, the amazing Janina Gavankar will be back as Shiva, to feature very heavily in their lives one last time. We've also got another blast from the past, all the way back from the pilot, who also comes back in a key role also. I won't ruin it for everybody, but people can think about that. Also, we've got probably the guest star that we're most excited about in the history of the show coming on, playing a very big role. I won't reveal it, but I will say it's a guest star that we've been dying to have on for years and years.
Sports star or actor?
Jeff: Not a sports star. That's as far as I'll go. So, as the season reaches an end, there are real questions with all of these crazy things, life and death, like, will the league actually survive? At the end of this episode, is there going to be a league anymore?
That's sounds pretty intense.
Jeff: Yeah, but you know, it's still The League. We want to deal with big issues – even the pilot started with a divorce – and now we've got a baby on the way and the death of a spouse. It was very important to us when thinking about doing a final episode, that it was a final episode of The League. We've tried very hard to make sure it wasn't going to be some other 30 minutes of television that has sappy wrap-ups.
I still have to ask because there's always lingering doubts: Is Sofia (Nadine Velazquez) really dead?
Jeff: Yes. She is really dead, and Rafi's (Jason Mantzoukas) helping Ruxin (Nick Kroll) with the 13 Stages of Grief. So Ruxin is a widower, and as we move to the series finale, he's going to be dealing with the fact of living on his own now again. I think one of my favorite scenes of the season was them bickering as husband and wife with Kevin (Stephen Rannazzisi) there watching.
What made you take the leap and kill a character?
Jeff: There had been a few things that we had been thinking about doing for awhile that you would only do if it was the final season. And a lot of these big things that you think about are life and death. So, we had death, and we also, at the end of [last week's episode] have life. We have Meegan (Leslie Bibb) coming back. We'd always wanted to bring Leslie Bibb back, but there were some big storylines we said we didn't want to do unless it was really the end. Andre (Paul Scheer) is going to be dealing with a baby on the way and Meegan as the season finale begins. If she hadn't bumped into Andre, he maybe would have never known, but now that they've bumped into each other they both have to deal with it. Drama! Sort of. Comedy drama!
How did you decide who would win the final Shiva? And was that a difficult decision to make?
Jackie: It honestly was. It was very difficult.
Jeff: We're always balancing who wins in fantasy with who wins in life. It's not just who wins, but who loses. This is the last Shiva, and also the last Sacko, so who's going to be the loser for all time, and what does that mean? The Sacko was easy. The Shiva was tricky. There's also a third trophy, which has to do with Jenny (Katie Aselton) and Kevin's bet about who will get spayed and who will get neutered if they win, for the Fertility Bowl. So Jenny introduces a trophy called The Snip.
If we could look at these characters 20 years into the future, do you think much will have changed in their lives?
Jeff: You're actually going to get a chance to. We spent a lot of time thinking about it, because we're dealing with big issues and we're thinking about survival now, but what are these guys going to be doing in the future? You're going to get some interesting peeks ahead!
I saw an interview that you're both in a fantasy league with the cast?
Jeff: Yup. The League of The League. The League of The League is the six cast members and Jackie and I. We've been doing it since the beginning. When we started, Stephen Rannazzisi was the only one of the cast who had experience in a fantasy football league. So he looks at me and goes, 'It's you and me, buddy. Shiva bowl, every year, you and me.' So here's what happened: Seven years and he's never won. He's never even been in the final. The first year we did it, Katie Aselton won and so, the trophy is called the Aselton Cup. It's a very nice strained silver bowl with a name plaque underneath. The first one, I think we awarded it to Katie at SXSW after the first season and it got left at a bar or something, so we had to make another one. The only two-time winner in the six seasons – we haven't finished seven yet – has been Jackie. I finally won last year, and the Shiva bowl this year is going to come down to Jackie and I for all the marbles.
Aw, that's great that it's you two finishing it up though!
Jeff: Yeah, it was great until Gronkowski got injured for me last week, and I was like, well I'll pick up his backup, Scott Chandler, but Jackie has higher waiver priorities than I do, so she picked him up so that I couldn't have him. This is our house.
Jackie: But it works out great. On a week that it's not good to be Gronk, my Toilet Kitchens are looking great with Chandler and I'm happy about it.
Jeff: Our names are all based on stuff from the show. So, Jackie's been The Toilet Kitchens forever. I was The Second Harvest for awhile. This year I changed my name to the Yank Bankers. But yeah, Jackie's been the sort of Darth Vader of the league.
Speaking of the League-isms, do you have a favorite word or saying from the show?
Jackie: I mean, I love shit-sippers. I love that one.
Jeff: A lot of phrases and things have gotten much more popular than we ever imagined they would. The ones that I'm disappointed didn't get much play is the bathroom cubby and the pee bib. Now, I'm not saying everyone should be talking about them because of the show. I just think for hygiene's sake, these are great things. I'm disappointed they didn't catch on. Taco (Jonathan Lajoie) had a rent-a-tie business called Neckflicks. We did that as a joke, and then a few months later someone was pitching it on Shark Tank. There are Mr. McGibblets at major sporting events. They were talking about Eskimo Brothers on The Bachelorette this year. There was a pet adoption place that realized if they named a dog after a character on The League, they would get chosen quicker. ESPN puts out the Top 20 Fantasy Team Names, and, like, three of them are from the show, and that's crazy. You realize, this show's going to live for awhile. That's how the show survived.
Do you have a player that was your favorite to have on the show?
Jackie: Jay Cutler was the nicest guy. We were swapping homemade baby formula recipes, no joke. I have a soft spot for J. J. Watt. He came on our show before he was the hundred million dollar man. He couldn't have been nicer and I mean, what girl doesn't love J. J. Watt, right? He's a gentleman. He's an extraordinary player. He's a funny, fast on his feet, guy. Comedically, his timing is great. J. J. Watt checks every box for me.
Jeff: He was really funny. He was dishing it out as quick as he was getting it.
Was there anything that you both wanted to do in the show but never had the chance to do?
Jeff: When we pitched the show to FX in 2009, one of the stories we pitched them was 'where does the gardener go to the bathroom?' And the point was, he's out there all day, you see what he eats, no one's letting him in the house, where's he going? Anyway, we finally got it in the show this season. It's been on our board for seven years. Another thing we wanted to do was send Ruxin and Rafi on a Bro-Lo weekend.
Jackie: I wish we could have done that. That is, for me, a very sad thing that we didn't get the Bro-Lo weekend.
Jeff: Rafi's dream was that Ruxin and he go on some sort of island together for a Bro-Lo, so that they could really bond, which is the last thing that Ruxin wants to do. So Ruxin keeps saying, 'I don't have time, I don't have time.' And he would get put in a sack and wake up somewhere, in like Mexico or wherever, with Rafi going, 'I know you didn't have the time, so I made the time.' There isn't really an end to things we could have done with these characters. Plus the fact, you know every year, Jackie calls the NFL…
Jackie: It's our rich uncle that we never see who send us the most amazing presents, and usually things that are not age-appropriate. Things you can just not imagine that somebody's just dropping in your lap. That's the depressing thing about ending the show. Right after we wrapped, that whole debacle with the new uniforms that people who were color-blind couldn't tell who was playing for which team. You see that and you think to yourself, 'Gosh, that is the kind of story that you could have done something with, but it's too late.'
Jeff: This year we got to do Taco retiring from sex due to concussions, so we got our concussions story. As Seahawks season ticket holders, we got to talk about the last play of the Super Bowl, with Marshawn Lynch. Those things, we never expected when we were writing the pilot seven years ago. Not having the forum to comment on all the crazy things happening in the NFL. That will be missed.
Jackie: That we'll miss.
The League series finale airs tonight on FXX at 10/9c.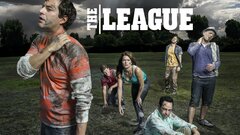 Powered by