'Marvel's Agents of S.H.I.E.L.D.' Fall Finale: Brett Dalton on the 'Really Big, Crazy' Shakespearean Twists
Spoiler alert! Don't read further if you haven't watched the Marvel's Agent of S.H.I.E.L.D. fall finale.
"Maveth" finally arrived on Marvel's Agents of S.H.I.E.L.D., along with more than a few surprises.
On the blue planet, Fitz (Iain de Caestecker) wasted no time finding Will (Dillon Casey) and convincing Ward (Brett Dalton) that the NASA man was essential to finding the Inhuman and the exit portal. But their escape plans took a surprise detour when the duo came across structures from ancient civilizations, giving Fitz a chance to take photos and discover a disturbing truth about Will: he had perished while helping Simmons escape the planet…leaving the Inhuman to take his shape. As for Coulson (Clark Gregg), he tracked down Ward (with some help from the dearly departed Rosalind, played by Constance Zimmer) and took him hostage on the planet. But while Fitz managed to kill "Will" with a flare gun, Coulson used his mechanical hand to crush the life out of Ward. And having completed his revenge mission, Coulson disposed of his hand and made it through the portal with Fitz.
RELATED: Marvel's Agent Carter Reveals New Characters for Season 2
Meanwhile, the remaining S.H.I.E.L.D. team successfully took over the portal room from the ATCU/Hydra, but not before Simmons released Andrew Garner/Lash to save herself, which then led to the death of more Inhumans. And as the episode's final cliffhanger revealed, more death was on the way: unbeknownst to them, the Inhuman had made it through the portal in the form of Ward…and found his way to Malick (Powers Boothe).
Following the game-changing events of the fall finale, we caught up with Brett Dalton to talk about the crazy twists, and what we can expect when the show returns next year.
Ward and Coulson have been gunning for each other all season. Did you ever think it might end like this?
Oh, no. Not at all. Not on another planet and all that stuff. In a way, this device is a classic one, like [Shakespeare's] A Midsummer Night's Dream's where these things happen in a forest away from reality. They step away from reality where really big, crazy things happen [with] these consequences that are quite severe when people get back to reality.
Do you think Ward suspected that Coulson could be capable of killing him?
No. Not at all. On the phone call with [Coulson], [when he plays] that ace in the hole of Ward's younger brother, one of the things Ward said was, "I doubt you have the guts to do it… I doubt you have it in you to actually pull the trigger." He sees Coulson's weakness as having the head for [revenge], but not the stomach for it.
Is there a chance that some of Ward is still in there, or are you straight up playing the Inhuman?
Well, the idea with this new iteration is that it's a collection of a lot of different memories of all the different hosts that have come before Ward. So, of course, there's still some Ward there, but it's "Ward and" rather than "Ward but." It's kind of "Ward and Will" and "Ward and the Host Before Will." You'll have to tune in to see how it actually turns out, but there's this really cool thing where the audience gets to experience it at the same time that Brett Dalton would. [Laughs] We get to see this whole new version develop. We get to sort of go, "Who is this guy?" We play with that question a lot, just who is this person now that he's come back. He looks like Ward, but there's a lot of weird stuff happening.
What can you tell me about the upcoming episodes?
It's going to be epic! It's going to be intergalactic, planetary [epic].
Marvel's Agents of S.H.I.E.L.D. returns Tuesday, March 8, 2016. Until then, catch Marvel's Agent Carter which premieres Tuesday, Jan. 19, 2016 at 9/8c on ABC.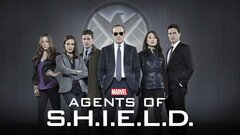 Powered by