'Agents of S.H.I.E.L.D.'s Brett Dalton Reveals the 4 Things to Know About Grant Ward's Mission
This season of Marvel's Agents of S.H.I.E.L.D. is no stranger to death and destruction, and Tuesday's fall finale is poised to unleash a whole lot more now that Hydra, led by Grant Ward (Brett Dalton), has landed on the mysterious blue planet, intent on bringing back the deadly Inhuman. However, complicating matters for the evil organization: Fitz's (Iain de Caestecker) side mission to bring back Will (Dillon Casey) and Coulson's (Clark Gregg) vendetta to exact revenge for Rosalind (Constance Zimmer) by killing Ward.
With the stakes so high for both sides, we spoke to Brett Dalton about what we can expect in tonight's episode.
1. Ward isn't worried about his brother; he's just focused on the task at hand.
"It's a big deal, and Ward is clearly affected by it," says Dalton about his character's conversation with his younger brother, Thomas. "But Malick got him to look at the bigger picture. Ward is pretty hyper-focused on a lot of things. He's very goal oriented. But Malick comes along and he's like, 'Listen here son, you're looking a very small portion of the board.' So for the first time, Ward sees his part."
2. He doesn't quite believe in the Inhuman's power…
"It's like Ward's gone to this church, but he's never seen God," explains Dalton. "He's been involved in Hydra for a really long time, and here Malick is talking about these deities and this Inhuman as if it were [real]. Malick talks the way someone who's seen God tries to talk to somebody who's a believer, but not in the same way."
RELATED: Agents of S.H.I.E.L.D. EPs talk Hydra History and Ward's Plans
3. …And he isn't concerned about the Inhuman's dangers either.
"He's seen Inhumans before, and they've got some powers and skills, but Ward isn't scared of anything," says Dalton. "He's ready for anything. I don't know if he's scared, but he's open to the possibility of what is on the other side, both literally and metaphorically."
4. Ward might have the gun, but Fitz has all the power.
"Ward is a good soldier and incredibly skilled at many things, but using science to locate a hell beast on the other [planet] is probably not one of them," says Dalton of Ward and Fitz's work dynamic. "It's an uneasy relationship at this point. In a way, Fitz holds all the cards. He's the one with the knowledge to locate this thing. Ward's just the one with the firepower. All he can do is keep Fitz in line and make sure he's leading them in the right direction." As for Fitz's side mission of finding Will, Dalton just offers this tease: "Hopefully, they will fulfill the mission."
Marvel's Agents of S.H.I.E.L.D.'s fall finale airs tonight at 9/8c on ABC.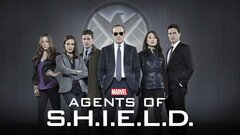 Powered by