Ask Matt: 'The Wiz Live''s Commercial Overload, Plus: 'Doctor Who''s Finale, 'Bones'' Future and More
Welcome to the Q&A with TV critic (also known to some TV fans as their "TV therapist") Matt Roush, who'll address whatever you love, loathe, are confused or frustrated or thrilled by in today's vast TV landscape. One caution: This is a spoiler-free zone, so we won't be addressing upcoming storylines unless it's common knowledge. Please send your questions and comments to [email protected] (or use the new form at the end of the column) and follow me on Twitter.
Question: I love musicals, but my relationship with NBC's live holiday specials has been rocky at best. I couldn't get through five minutes of The Sound of Music and Carrie Underwood's "acting." I actually made it through Peter Pan and thought it had some really good moments, but altogether it just didn't work. And The Wiz has never been a favorite of mine, so I was pleasantly surprised to see them knock this one out of the park. But I felt my attention waning anyway, given the constant commercials. I'm not usually one to complain about those, and I watch the majority of my programming live even though I own a DVR, but at least in a regularly scheduled show, the acts are substantial enough to make the breaks less noticeable. Here, just when things started to get high-energy, another commercial would come to break the mood. I understand that these events are very expensive and that NBC wants to get as much ad time in there as possible, but they've got to figure out a way to do this more sensibly without killing the pacing.
In future, instead of stranding the making-of special on a pre-Thanksgiving Wednesday, could they perhaps air the making-of special first, followed by the show in a less-interrupted format? Or maybe take one or two extended "intermissions" with a whole lot of commercials at once, that way we could get them over with and have more of the story unfold at once? It feels like the better way to watch this would have been starting it 20 minutes late and zipping through everything on the DVR—but that negates the "live" factor. Your thoughts? — Jake
Matt Roush: While watching The Wiz Live!, which I thoroughly enjoyed, I was kind of amused when checking my Twitter feed to see all of the complaints about the commercials. Yes, there were too many breaks, and more than a few seemed disruptive to the spirit of the moment, but in this DVR/multi-platform age, so many of us are out of practice when it comes to sitting through commercials that I got tickled to see how spoiled we've all become. The idea of an "intermission" is a good one—which is why they exist in the theater—but advertisers aren't keen about their spots being bundled together in a large stack, so financially that could be a non-starter. I'm surprised, though, that no one has stepped up to be a major sponsor of a family-friendly event like these musicals to help underwrite the cost and allow for more limited interruptions, which would help a lot. (Plus: See the best and funniest Twitter reactions to The Wiz Live!)
Should The Wiz Have Had an Audience?
Question: My only criticism with The Wiz is it should have had a studio audience. — Marijke (from Twitter)
Matt Roush: One handicap I've discovered with each of these NBC musicals is that it takes quite a while to get used to the shows being performed in a vacuum. There can be a sense of dead air when a line or a song is delivered with no audience reaction. The Wiz did a better job than usual of moving past the climax of a number to a line of dialogue or some other transition to minimize the awkwardness, but it's an issue. Still, the producers are adamant that as long as they're in charge, this is the way they will produce these spectaculars, with the cameras giving the audience a virtual front-row seat to the performers and the action, and then some. (To be honest, maybe too much so, with some glitchy editing cues along the way, and the up-close-and-personal aspect occasionally robbing us of the overall impact of some of the Cirque Du Soleil movement.) Among my notes while watching is an observation that I might have enjoyed The Wiz Live! even more in a theater—and maybe we'll get that chance if it moves to Broadway next season, as reported. I understand Fox's live version of Grease in late January will be done in front of an audience. And if that proves to be an asset, maybe that will get NBC to rethink this approach.
---
The Who-What-Huh of the Doctor Who Finale
Question: The last episode of the three-part season finale of Doctor Who was one wild and crazy (but very cool) ride. I suspect Doctor Who fans will be talking about it for quite a while, especially the idea of (spoiler alert) an ex-companion extracted one heartbeat away from death by the Time Lords and an immortal Viking woman traveling through time and space together in a second TARDIS disguised as a diner. I'm not sure I've completely processed the entire episode, but I did want to ask: After all the initial effort to erase either Clara's memory or the Doctor's memory of their time traveling together, was the whole diner scene designed to give them both an indirect way to say goodbye to each other? (I think it was implied based on the drawing of Clara's face pasted on the Police Box TARDIS that the Doctor realizes the person he was just talking to was Clara.) — Brian
Matt Roush: I think you're probably right. For more perspective on the finale, check out our interview with executive producer Steven Moffat, who has lots to say on how he approached the end of Clara's time as the Doctor's companion.
---
Justifying Our Love for The Grinder
Question: How awesome and hilarious was the latest episode of The Grinder with Timothy Olyphant guest-starring as himself!? I have never really been a comedy series watcher, but I find The Grinder laugh-out-loud funny. It's quirky in just the right way. I think the entire cast is excellent, but Fred Savage and Rob Lowe are perfect together. I really hope this show sticks around. — Mags
Matt Roush: Absolutely loved it, and Olyphant was a riot. I love that they've brought the world of The Grinder TV show back into the life of Dean and the family, at least for now. This is also the funniest work Jason Alexander has done in some time (as the show-within-a-show's arrogant creator/producer).
But typically for a series this offbeat, there's blowback. On Twitter, I got this response from Allen: "They've got to get rid of The Grinder clips. Is it a parody? A family sitcom? A workplace sitcom? Two of three are OK. All aren't." To which I couldn't disagree more strongly. The fact that The Grinder doesn't settle for one or the other, but meshes these elements into a thoroughly original package, is one of the main reasons the show stands out from the pack, at least critically.
---
Will Bones Rise Again?
Question: What do you make of the chances of renewal of Bones on Fox given the recent lawsuits brought against the network? — EL
Matt Roush: A lot less than I would have predicted before the two lead actors and Kathy Reichs (author of the book series) jumped on the legal bandwagon, crying foul over the network and studio's accounting practices. The network is still promoting the show—just got screeners to this week's back-to-back fall finale episodes (which I can't promise I'll be able to watch before Thursday)—so it's not entirely toxic, but where and when Bones will return in the midseason lineup after this week has yet to be announced, so it looks like it's still getting about as much respect as it ever has through much of its 11 seasons. And when things get this messy, it's rarely a good sign for a long-term future.
---
The Sing-Off's Silent December Nights
Question: Will there be no The Sing-Off this December? The great group Pentatonix was discovered on that show, and it was a very entertaining hour. Now we have some bake-off show that we can see all the time on the Food Network? — Flint
Matt Roush: To be fair, The Great Holiday Baking Show is on ABC, not NBC, so not an either-or in this case. But looking through NBC's December schedule, there is no sign of The Sing-Off this year, which isn't to say it won't be brought back at some point in the future. Given that last year's "season" was condensed to a two-hour special, it's hard not to conclude that the network has either soured or tired of the concept, and may just be giving it a rest.
---
Is There Life After Cancellation?
Question: I've two questions to ask. A) Although The Whispers may have been axed, might there be a second season with a new cast? B) What's the chance of Red Band Society being brought back to a new network in the near future? — Jeremy
Matt Roush: You never want to say never, but the chances of either of these shows having a second life are slim to none. When a show is canceled after a short first season (as with The Whispers, a summer replacement) or even before its first season is concluded (the case with Red Band), there generally isn't enough momentum to justify a rescue or reboot. And if it hasn't happened by now, especially where Red Band is concerned, it probably won't be.
That's all for now, but we'll pick up the conversation again later this week, so keep sharing your thoughts on new and returning series and other TV matters. I can't do this without your participation, so please send questions and comments about TV to [email protected] or shoot me a line on Twitter (@TVGMMattRoush). Or submit your question via the handy form below.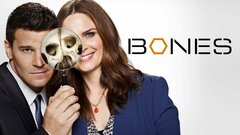 Bones
where to stream