First Look: 'Marvel Super Hero Adventures' Stars Spider-Man and Other Heroes in Preschooler-Focused Series
Even toddlers love superheroes. That's why Marvel Entertainment just announced that even its youngest fans are getting new, exciting content based on its popular characters with a program called Marvel Super Hero Adventures.
Through both animation and publishing, the program will offer preschool kids a gateway into the Marvel universe that older kids and adults have already come to love.
The animated part of the Super Hero Adventures program will consist of 10 shorts. Each one will feature Marvel's iconic hero Spider-Man in an epic team-up with other classic characters, including Thor, Iron Man, Hulk, Ant-Man and Captain America, along with emerging favorites like Black Panther, Captain Marvel, Wasp and Ms. Marvel.
The Marvel Super Hero Adventures animated shorts are Marvel's first preschool audience-focused production, and will be released across multiple platforms. To keep the kiddies' attention, each short will only be 3-and-a-half minutes long, but they definitely don't lack in content. Along with being a lot of fun, the adventures will touch upon aspirational themes of friendship, helping others and heroism.
Marvel Super Hero Adventures is set to premiere on Disney Channel's Disney Junior programming block, and then air later on Disney Junior.
The shorts will also run on Marvel HQ, the Marvel Kids YouTube Channel. Plus, viewers can also watch on DisneyNOW.
It all looks very cute, as you can see in this exclusive look at a scene below, with Spidey and Iron Man working together to stop a literally stinky plan by villainous robot Ultron:
Marvel Super Hero Adventures Shorts No. 1 and No. 2 premiere Friday, Oct. 13, at 12:25/11:25c and 1:55/12:55c, respectively, as part of Disney Channel's Disney Junior programming block.
The first two shorts will also air Oct. 13 at 6:25/5:25c and 7:55/6:55c, respectively, on Disney Junior.
Marvel HQ will release each short the same day as its linear cable airing.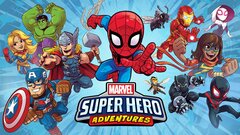 Powered by