'Game of Thrones' Season 6 Teaser Flashes on the Jon Snow Mystery (VIDEO)
Game of Thrones fans have speculated for months about Jon Snow's (Kit Harington) fate, and HBO is leaning into that with its newest teaser video.
After the first poster for the upcoming sixth season previewed a bloody Jon (who, spoiler alert, was seemingly killed off in the fifth season finale), the first video emphasizes how "the past is already written; the ink is dry" while showcasing the late Snow.
Then, there are flashes of many of the show's biggest—and most traumatic—moments, including Ned's (Sean Bean) beheading, the Red Wedding and Joffrey's (Jack Gleeson) death, before the ominous warning, "They have no idea what's going to happen."
Watch the teaser below:
Game of Thrones returns in April, 2016 on HBO.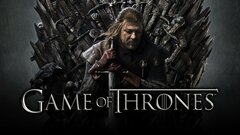 Powered by