'Gotham's Villain Ain't "Monk-eying" Around on the Fall Finale (VIDEO)
"My true name is Dumas…and a long time ago, my family was dishonored and degraded by yours." Good lord, this Theo Galavan (James Frain) guy has been bitching about Bruce Wayne's kin for like, ever.
Yet during all that time of pouting and planning, the guy apparently never learned to pick on folks his own size, because Gotham's baddie has gone and abducted Lil' Wayne (David Mazouz)…even though he had nothing to do with sticking it to the Dumas family!
In this exclusive clip from Monday's fall finale, Galavan gives our bound-and-befuddled future hero some insight into his centuries-old gripe with the Waynes, complete with villainous glowering and veiled threats, before bringing in cloaked goon Father Creel (Ron Rifkin, Alias) to begin their big scheme to cleanse the city's sins with Bruce's blood. Doesn't sound entirely sanitary or sane, but given that Gotham is filthier than a football-stadium men's room, the Sacred Order of Saint Dumas probably can't make things worse.
Of course, there is no way Bruce Wayne bites it, but this is a fall finale and the body count this season has been off the charts, so we're betting someone on the show is going to meet their maker. If you have any theories, share 'em below and don't forget—after this week's episode, Gotham won't be back until Feb. 29, 2016.
Gotham, Mondays, 8/7c, Fox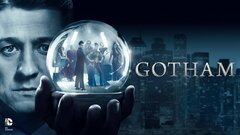 Gotham
where to stream
Powered by