'At Home With Amy Sedaris' Promises a Bevy of Celebrity Guest Stars
Nearly two decades after Strangers With Candy, Amy Sedaris stars in her own series once again. On her new bonkers, semi-scripted show, the perennial guest star (Sex and the City, Difficult People) combines her two loves: bizarre comedy and budget home projects. It's about time someone gave us how-to tips that bust our guts instead of our banks!
You've written a book on entertaining and even sold your own cupcakes to the public, so why use actors on At Home instead of actual lifestyle experts?
Everyone has experts on their shows. Plus, if it's not live, you can't gauge what your energy's going to be like with that person. If you get someone on there who's dull and you're supposed to be improvising with them, it can be just like bleh.
Given everyone you have worked with over the years, was it tempting to call in favors?
Once we got Paul Giamatti, then I was like, who else can we get?
So who else did you get?
Michael Shannon, Nick Kroll, Jane Krakowski, Chris Elliott. Every actor who came on, I couldn't believe we got them or that they said yes, and then I felt like we only paid them peanuts. [Laughs]
When did you start crafting?
In Girl Scouts. Covering bricks with contact paper to hold up books was what I was good at. Or [making] tissue flowers.
Do fans ever present you with homemade gifts?
Yes. Once in Texas, I got a taxidermied snake. It was coiled up and in striking mode, and I'm like, "Do you really think I'm going to take this through the airport?" I travel with an X-Acto knife because I have to slash so many things and then hide them in trash cans like Jeffrey Dahmer, but I don't want to hurt someone's feelings. [Laughs]
At Home With Amy Sedaris, Tuesday, Oct. 24, 10:30/9:30c, truTV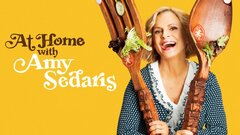 Powered by