What's On: 'The Gifted,' 'Valor' Premiere, 'The Good Doctor'
The Gifted (9/8c, Fox): My favorite of the fall's too-many comics-and-Marvel-inspired series delivers a strong second episode, with solid action and tension on multiple fronts. While the Strucker family frets over being so violently separated in last week's cliffhanger, a more pressing concern is the condition of Clarice aka "Blink" (Jamie Chung), whose uncontrollable seizures are opening portals that bring chaos to the mutants' hideout. Now in custody, father Reed (Stephen Moyer) learns what it's like to be on the other side of a merciless interrogation, as Agent Turner (Coby Bell) threatens even the parts of his family that aren't mutant. (Sharon Gless, who appeared in show-runner Matt Nix's Burn Notice, guests as Reed's defiant mother.)
Valor (9/8c, The CW): The latest and least of the season's new wave of military dramas is overdone, oversexed and overcomplicated. Cocky, randy Army helicopter pilots Leland Gallo (an unconvincingly swaggering Matt Barr) and Nora Madani (Christina Ochoa) are conflicted about receiving medals of valor for a mission in Somalia that ended badly, leaving one of their own (W. Tre' Davis) behind. As they plan a rescue mission, under the supervision of smug CIA operative Thea (a laughably wooden Melissa Roxburgh), the officers keep flashing back to the mysterious mission, clouded by secrets and conspiracies that could threaten their careers and lives. There must be better ways to honor the troops than with this sort of contrived drivel.
The Good Doctor (10/9c, ABC): One of the few bona fide breakout hits of the fall, the offbeat medical drama sends its young hero, autistic surgical resident Dr. Shaun Murphy (the terrific Freddie Highmore), out of the hospital, where he must learn to communicate with sympathetic Dr. Claire Browne (Antonia Thomas) during a race against time to bring back a donated organ. As good doctors do.
Inside Monday TV: The best-selling children's book Escape From Mr. Lemoncello's Library becomes a TV-movie for Nickelodeon (7/6c), about a group of friends whose overnight visit to a famous game-maker's fantastical library becomes a whimsical whirlwind of literary mayhem and adventure. … Whatever caused Maks to bail on Vanessa in last week's non-elimination episode, he's apparently back partnering her for the "Most Memorable Year" round of ABC's Dancing With the Stars (8/7c). For what it's worth, Vanessa will be dancing to "Godspeed (Sweet Dreams)" by her husband, and fellow contestant, Nick Lachey. … CBS's Scorpion (10/9c) takes a break from saving the world to focus the team's talents on a pregnant deer wounded by poachers. The geniuses attempt to recreate the ailing animal's womb to save it and the baby. Go, Team Bambi!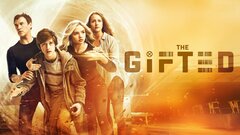 Powered by