First Look: 'Supergirl' Faces Off With Reactron (VIDEO)
Sorry, James Olsen. Sparks are flying between Kara and another guy in this Monday's Supergirl (8/7c, CBS) when DC Comics baddie Reactron shows up in National City.
"There was a Vietnam backstory for the original character [Ben Krullen, introduced in 1983], but with this version, he's Ben Krull, a scientist who worked in a nuclear reactor," explains Chris Browning (Agent Carter), the actor behind the heavy metal getup. "He and his wife were trying to bring clean energy to the world, but some terrorists blew up the reactor, causing a meltdown. Superman came in and saved the day and all that, but not before my wife was killed and I'm horribly disfigured by the radiation."
RELATED: Meet the Supergirl Squad: A Who's Who of National City Characters
Left with nothing but his rage over the loss of his wife and a lot of spare parts laying around, Krull goes full-on villain and "crafts a suit that is a reactor itself…so when he is wearing the suit he has these powers." Powers he brings to town to exact his revenge against the Man of Steel, apparently. "He and Superman have battled in the past, and he's never been able to beat him. So his plan is to hurt Superman the way he's been hurt…by losing someone he loves. And in this case, that means Supergirl."
Check out their first confrontation in this exclusive clip and let us know in the comments what you think of our new heroine. Is Melissa Benoist kicking ass as the latest S-wearer?
[jwplatform L7Kf0nTA]
Supergirl, Mondays, 8/7c, CBS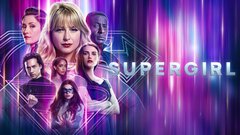 Powered by