Syfy Teases Christopher Meloni's 'Happy!' at New York Comic Con
Syfy premiered its zany, upcoming series Happy!, based on the graphic novel by the same name, at New York Comic Con during its Saturday panel at Hammerstein Ballroom.
The series follows a badass hitman Nick Sax (Christopher Meloni) who becomes linked with an imaginary blue horse named Happy (voiced by Patton Oswalt) during the Christmas season. It gets very dark, bloody and seriously NSFW, so beware!
The panel featured EPs Greg Morrison, Brian Taylor and showrunner Patrick MacManus alongside leading man Meloni.
And it's unlike anything Meloni has ever done before. "I had never gotten a script that presented a world that was on the page here," he says. "So much so that I had to have two or three Skype-ing sessions with Brian to explain."
To give a little background, the series features a slew of bizarre characters and moments including an evil Santa draped with tinsel and ornaments and a bizarre cartoon featuring characters farting rainbows. Yes, seriously.
As Morrison notes, "There's stuff coming up that you couldn't even imagine," he says. "It's a Christmas story so it kind of echoes things like It's a Wonderful Life and Scrooge. For people who've read the graphic novel, you're going to see a lot of big differences."
And for those that need some extra incentive (which you shouldn't), Taylor teases: "Chris is naked in pretty much every episode." In case you're into that kind of thing.
Happy! is currently in production, shooting its final two episodes of the season. Check out the trailer below:
Happy! series premiere, December 6, 10/9c, Syfy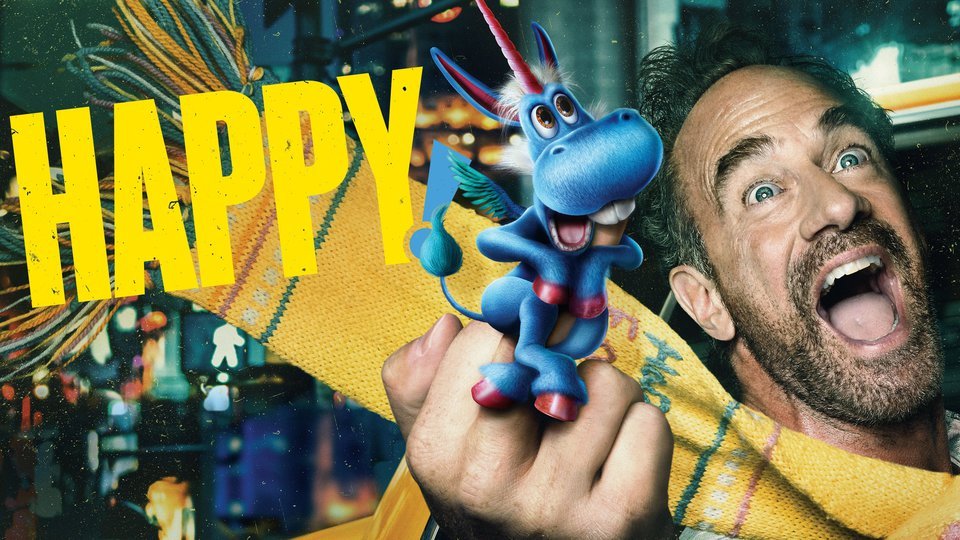 Happy!
where to stream
Powered by