Anthony Michael Hall, Gina Gershon, Missi Pyle and Doug Jones Will Guest Star on 'Z Nation'
George R. R. Martin isn't the only famous name coming to Z Nation this fall: TV Insider has learned that Anthony Michael Hall (The Dead Zone), Gina Gershon (Red Oaks), Missi Pyle (Cleaners) and Doug Jones (Falling Skies) will be hanging out with our heroes before the season is over.
Pyle and Jones will appear in the November 6 episode as the group travels through Roswell, New Mexico in search of zombie aliens. Pyle plays Bernadette, a distracted young woman who shows the team a long-forgotten Air Force base to find the E.T.Zs. Jones played a New Mexico local named Scully who does not share Bernadette's affinity for the otherworldly. He does, however, have a secret that will put Murphy and the mission in peril.
Hall plays Gideon, a management trainer and the leader of a group of survivors from a corporate retreat-turned-strange-cult after the apocalypse trapped them in a hotel. His character appears in the November 20 episode, when a killer starts picking off the survivors one-by-one leaving the Heroes to play real-life Clue to identify the culprit.
Gershon will appear in a multi-episode arc beginning on November 27 as La Reina ("The Queen"), the reckless and wild leader of the Zeroes. She has high hopes for Murphy and the possible vaccine and believes the drug cartel will be able to distribute it to a new world of survivors. (That's wishful thinking.)
But first, "A Song of Ice and Fire" author George R. R. Martin makes a cameo as an undead version of himself in tonight's episode. Z Nation co-creator Craig Engler tweeted a sneak peek at the Game of Thrones mastermind's new look:
Here's George R.R. Martin getting makeup applied for his zombie cameo in this week's @ZNation pic.twitter.com/mwSGIarmkc

— Craig Engler (@craigengler) October 29, 2015
And here's a sneak peek at Martin's scene:
Z Nation airs Fridays on Syfy at 10/9c.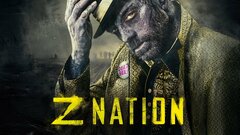 Powered by