Inside the 'Realer, Edgier and Darker' 'Legends' Season 2 Reboot
Legends is getting a new identity.
When the TNT drama premiered last summer, it introduced the character of Martin Odum (Sean Bean), a Los Angeles-based FBI agent in the Division of Covert Operations who assumed a number of different identities, or "legends," to go deep undercover. But when he learned that Martin Odum was just another one of his legends, he started questioning his own personality and made it his mission to discover his true self. When Season 2 picks up on November 2, the "case of the week" procedural aspect of the series has been eliminated as Martin has relocated to London chasing a tip that he might have previously been a MI6 British intelligence agent.
We spoke to new showrunner Ken Biller about the format changes, new international locations and the fresh faces joining the cast in Season 2.
How are you approaching the second season?
It's fair to call it a reboot or reinvention. The network and studio felt like they had a great star in Sean Bean and great auspices in Howard Gordon, but they didn't feel like Season 1 was successful in a lot of ways. They gave me a lot of leeway to try to reinvent the show in a way that feels realer, edgier, darker and much more about the characters. So instead of showing Martin put on a disguise every week and be somebody else to fight another bad guy, what if we really explored one identity that he had lived in for a long period of time and how that relates to the man he is today? So I took that theme of identity and applied it not just to Sean's character, but to all the characters. So a new character like Kate Crawford, played by this brilliant young actress Aisling Franciosi, is searching for her identity too. She's discovering that she might not be who she thinks she is, so she's trying a new ethnicity.
So Sean doesn't have to master a new accent or character every week?
Yes, and he was definitely happy about that. We fully explore his legend of [arms dealer] Dmitry Petrovich for the whole season. Sean really embraced the challenge. One of the things that Sean loved about the new approach was how much the show wasn't just about his character or characters, but really about the deep exploration of others and who they are as people, not just as villains or cops or spies. I'm happy to say that the audience will discover his true identity by the end of the season.
RELATED: First Look Photo: Sean Bean as a Super Spy
Do we revisit any other Season 1 characters, like Martin's ex-wife Sonya (Amber Valletta) or his former partner Crystal (Ali Larter)?
Tony Rice, played by Morris Chestnut, is the only other character that we see from Season 1. He was gracious enough to come help us with the first three episodes. It was great having him because he has great chemistry with Sean. That was an important connection because whether the network wanted to change it around or not, there were still a couple million people who enjoyed the show in the first season and I wanted to honor their passion and commitment. So while the audience will get a whole new story and set of characters in Season 2, if you were a viewer in Season 1, what you see will ultimately line up and agree with whatever mythology was established.
Why was it important for you to move production to Europe?
We shot the first two episodes in London and then the rest of the season in Prague. There's a long storyline that takes place in Prague, but the story also takes us to Paris, Lithuania, the Ukraine and rural England. At the end of Season 1, Martin goes off into the night with a fake passport trying to clear his name. The first thing that occurred to me is he would go to London, and I didn't want to try to fake London with a green screen. This is a spy show and he is a longtime covert operative, so a spy show should have an international flair or flavor. Sean is European and there are present-day stories taking place in Europe that are relevant. Frankly, I wanted it to look and feel as different as possible from a show that was shot all on location in Los Angeles and took place in an FBI bullpen that looks a lot like other shows. We are not pretending, so there is a realism to the show. It's also going to expose some really brilliant European actors to the audience.
You also incorporate a number of flashbacks into the narrative, including a young Martin in boarding school. What will we learn from those?
We're seeing the formative years of Martin's character and how he became the person who he is. So while he's on the search for that identity, I wanted to put the audience on the same search. It's more about a name on a passport. It's about how somebody grew up and seminal moments and key figures in their life. There are lots of surprises in that back-story as it unfolds.
Legends premieres Monday, November 2 at 10/9c on TNT.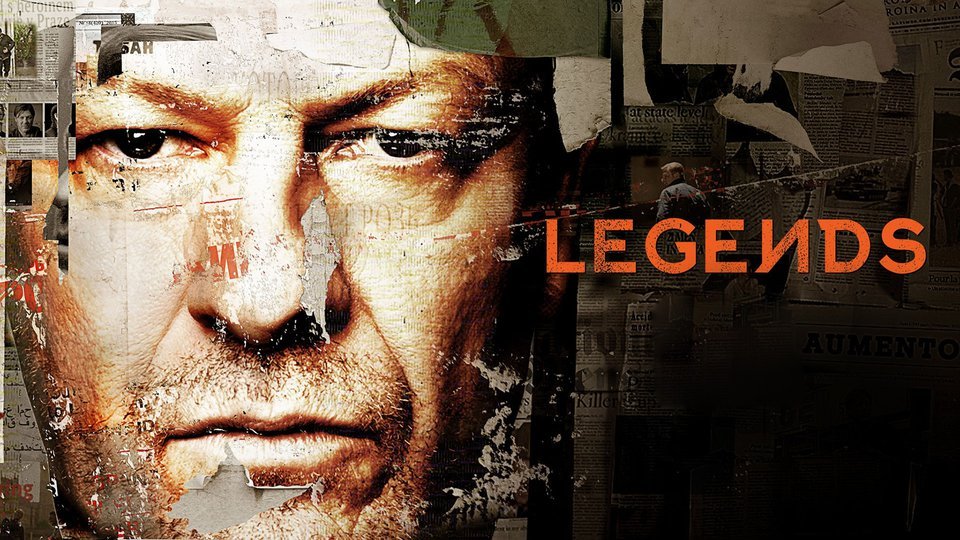 Legends
where to stream
Powered by