Patty Duke Causes Confusion on 'Liv & Maddie' as Identical Twins (VIDEO)
https://player.waywire.com/?id=7P85K72MYTBP4BGZ
Classic actress Patty Duke, rated one of TV Guide Magazine's top 50 performers, is headed back to the small screen in a guest role on Disney Channel's Liv and Maddie.
Twin sisters Liv and Maddie, both played by Dove Cameron, resemble the identical cousins Patty and Cathy that Duke herself played in The Patty Duke Show. And in the upcoming episode "Grandma-a-Rooney," the former Screen Actors Guild president continues her tradition of playing identical characters, as both Grandma Janice and Great-Aunt Hilary.
RELATED: Here's How Disney Films Liv and Maddie as Separate Twins
When Maddie doesn't get "a whiff of the favorite vibe," she is convinced that Grandma is actually Great-Aunt Hilary posing as Grandma Janice. In an effort to expose her, Maddie prepares a dessert that only Grandma would know. But when she correctly names the delicious treat that's hidden under the lid, Maddie becomes more confused than ever. Could it really be Grandma Janice…or is it really Great-Aunt Hilary?
Watch the sneak peek scene above and then tune in to the full episode on Sunday, October 25 at 8/7c to find out.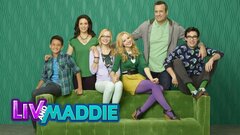 Powered by