It's a 'Liv and Maddie: Cali Style' Halloween (VIDEO)
Seems like living in SoCal isn't so boo-tiful after all! The Friday, October 14 episode of Disney Channel's Liv and Maddie: Cali Style (8/7c) finds brothers Parker (Tenzing Norgay Trainor) and Joey (Joey Bragg) on a bummer because the students at their new school don't celebrate Halloween—so they make it their mission to show their friends how much fun they've been missing.
RELATED: Are Liv and Maddie Real Twins?
Meanwhile, twins Liv and Maddie (Dove Cameron) split up on Halloween night, with Liv taking younger cousin Ruby (Lauren Lindsey Donzis) to dinner at a spooky diner where she runs into an old acquaintance. Maddie stays home to pass out candy and comes face-to-face with an unexpected trick-or-treater. Check out this exclusive preview: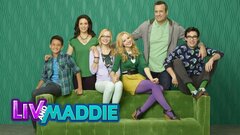 Powered by