Will Captain Holt Come Between Jake and Amy on 'Brooklyn Nine-Nine'? (VIDEO)
Jake and Amy's relationship might have hit another speed bump when Brooklyn Nine-Nine returns this Sunday—this time in the form of Captain Holt.
The Halloween-centric episode sees Jake and Captain Holt take part in their annual competition to be named "amazing detective slash genius." Only for this year's third tie-breaking heist-off, they've divided the rest of the squad into two teams. And based on the exclusive clip below, it appears that Amy's dedication to the Captain has led to Jake not picking her for his team. When she tries to have a serious conversation, Jake believes he's being punk'd.
The Brooklyn Nine-Nine Halloween episode airs this Sunday at 8:30/7:30 ET on FOX.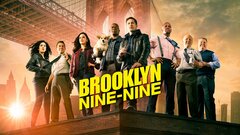 Powered by