'Getting On' Sets High and Hilarious Standards for Its Surreal Final Season
Rhea Perlman is in a harness dangling high above the ground outside the window of a decommissioned Pasadena hospital that serves as the set for HBO's Getting On. "I see a Rhea-Tom Cruise connection!" jokes one crew member, comparing the Cheers vet's stunt to those in the action-packed Mission: Impossible films. Perlman laughs, but her character is no hero. In the final season of the quirky series about a geriatric-care wing, Perlman guests as the ultimate firebrand patient who tests the staff's already strained version of sanity.
"What's great about this show is that nobody's the good guy or the bad guy," Perlman says when she's back on solid ground. "And there's a very dark side to everyone."
Season 2 ended with the staff facing jail time for medical-billing fraud thanks to their boss, the bedside-manner-deficient Dr. Jenna James (Laurie Metcalf), who bumbled into the crime as a way to fund her beloved vulva research. Also implicated were grounded, soft-spoken nurse DiDi (Emmy nominee Niecy Nash), insecure motormouth nurse Dawn (Alex Borstein) and Dawn's sexually confused sometime lover, administrator Patsy De La Serda (Mel Rodriguez). But—spoiler alert!—they will not end up behind bars.
"Getting On is a celebration of the human condition, warts and all," says Mark V. Olsen, who, with husband Will Scheffer, adapted the series from a BBC sitcom of the same name. (The duo also created HBO's polygamy drama Big Love.) "Our characters are doing the best they can within a system that is highly chaotic and bureaucratic, where people get lost and often get sicker," Scheffer says.
RELATED: Rob Corddry on His 3 Favorite Eps From Childrens Hospital
Both creators' mothers were in extended care, so they have firsthand experience with the surreal mix of heartbreak and hilarity found in this ward—perfectly expressed in a previous episode that showed a harried daughter (Molly Shannon) growing increasingly agitated as she was told her mother was dying, then not dying, then dying again while the staff pointed fingers.
But this season has some triumphs, as Nash's DiDi tries to channel her inner Norma Rae. "She tries to galvanize the nurses so our union will serve us and treat us fairly. DiDi's about doing what's right," Nash says. "Nurses reach out to me on social media and say, 'That's exactly how it is!'"
Also, Dawn is diagnosed with advanced kidney disease, but don't break out the tissues just yet. "There's less treacle and Lifetime-ism to the story than you would expect," Olsen says. Borstein adds, "Every time the writers throw something new at me, I'm like, really? She's this nuts? And yet it's a grounded nuts. Mark and Will find a way to make it not delusional."
Dawn's post-Patsy-breakup rebound marriage last season to security guard Dennis (Kurtis Bedford) "is not necessarily what she thought she wanted or needed," Borstein says. "Alex and I talked about our relationship a lot. It's like a couple of third-graders," Rodriguez says. "Patsy was probably raised Catholic, a mama's boy. His family would be incredibly disappointed if he were gay. He's really trying to have this relationship with Dawn, his soulmate who would go to gay bars with him."
Metcalf, whose wily doctor will show off new research and go head-to-head—in a meta twist—against the BBC series' version of Jenna (Vicki Pepperdine), champions the show for offering mature actresses roles beyond generic grannies or clichéd, coldhearted bosses. (Guest stars include octogenarians Rita Moreno and June Squibb.) "I was doing a scene earlier this morning with Frances Conroy and Mary Kay Place," Metcalf says. "These are three older women who each have a different point of view. If you're lucky, you usually get one character that age, and she represents everybody."
Getting On is unlikely to be resuscitated elsewhere, like other canceled shows with small but dedicated followings, because Scheffer and Olsen have an exclusive contract with HBO, but, as Olsen says, "the series is about saying goodbye—and making peace with saying goodbye." After six final episodes, the end may be inevitable, but at least Getting On will go with a smile.
Getting On, Season premiere, Sunday, Nov. 8, 10/9c, HBO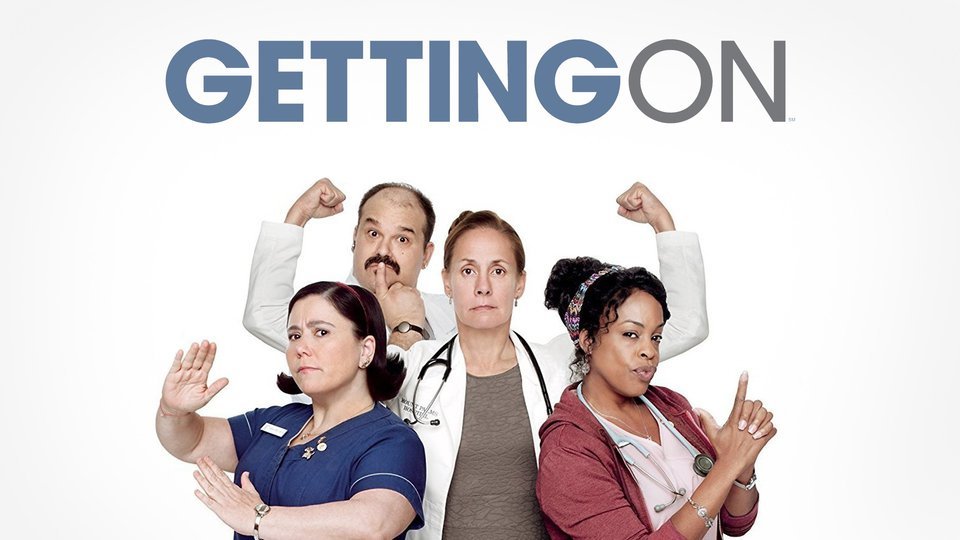 Powered by