Go Behind the Scenes of the 'Bones' and 'Sleepy Hollow' Crossover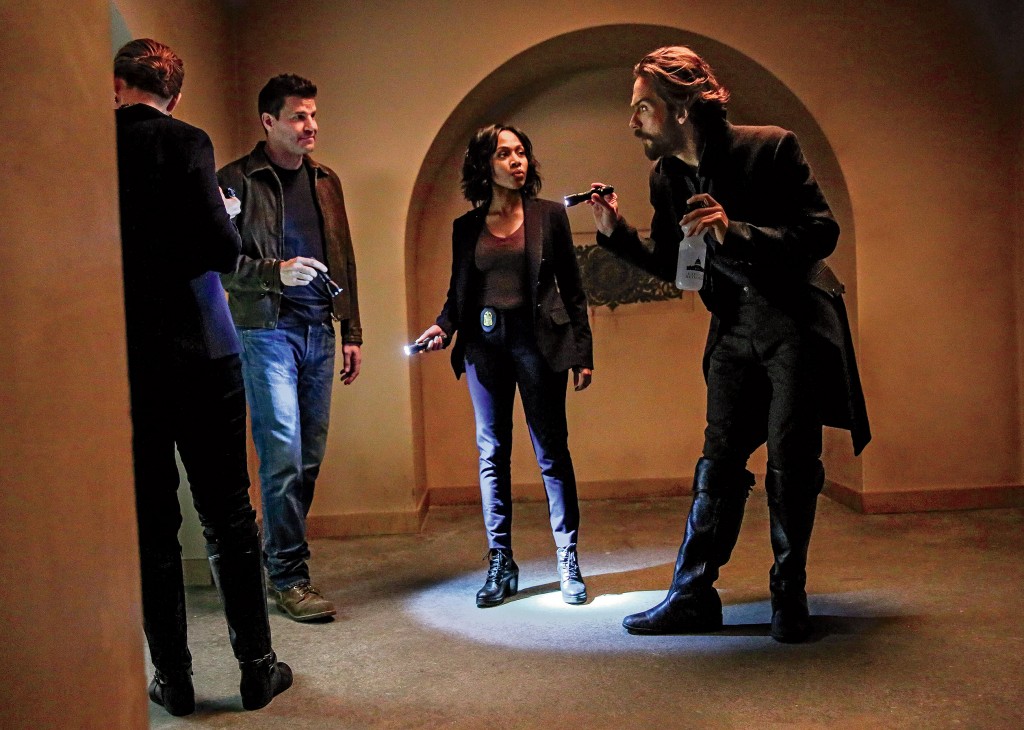 It's the television-crossover event two and a half centuries in the making.
Over the past 11 seasons, Stage 6 on the Fox Studios lot in Los Angeles has housed Bones' slick, state-of-the-art Jeffersonian lab, where Dr. Temperance Brennan (Emily Deschanel) studies human remains to help FBI agent and husband Seeley Booth (David Boreanaz) solve crimes. But on this particular September day, a stranger dressed in a long, old-timey brown coat and lace-up boots is in their midst, pacing behind Brennan as she examines evidence under a microscope. "I applaud your scientific instincts," Brennan says to her unlikely new ally, Sleepy Hollow's 250-year-old resurrected Colonial spy, Ichabod Crane (Tom Mison). Yep, that Ichabod Crane. After the director calls "Cut," Mison spots his costar Nicole Beharie, who plays FBI agent Abbie Mills, chatting with Boreanaz and exclaims, "School field trip!"
The drastically different worlds of scientific procedural Bones and supernatural thriller Sleepy Hollow come together on October 29 with a two-part Halloween-themed spectacle. In the first hour, Brennan and her team uncover a headless corpse. The discovery piques the attention of Crane and Mills, so the duo travels to Washington, D.C., to claim the body, believing it to be that of Crane's centuries-old rival Abraham (Neil Jackson), aka the Headless Horseman. The action then carries over to the Sleepy Hollow hour with all four characters learning greater forces are at play when this season's villain, Pandora (Shannyn Sossamon), awakens the British Army of the Undead, threatening to destroy the nation's capital. "Basically, things go f—ing nuts!" Mison says with a laugh.
Behind the scenes, it was even crazier for the production teams to solve the logistical puzzle that was combining these very different series into one cool crossover. To start, Sleepy Hollow uprooted its two leads and main crew members—including the director of photography, key grip and gaffer—from its Atlanta headquarters to Bones' California set for four days. "We didn't know what to expect, and it was a real challenge," says Bones executive producer Jonathan Collier. "But there were no surprises, no disasters, and it really was a seamless integration."
There was, however, plenty of skepticism, not only from the fans, but also the actors themselves. "Honestly, people were scratching their heads," Boreanaz admits. "I didn't quite get [how we'd pull it off] either."
"I didn't know if this was going to work," Beharie adds. "Bones is very practical, and we are so otherworldly and occulty." But the showrunners and their writing teams managed to find common ground in the relationships at the center of both series. "The duos [from each show] are not at all dissimilar: They're opposites yet very compatible, and they have great chemistry," says Sleepy Hollow executive producer Clifton Campbell. "And then we aimed to find a way to mix up those pairings so we could have Mills with Booth and Crane with Brennan to do what they do best."
While Booth and Mills bond over their passion for law enforcement, Brennan and Crane's quest for answers bonds the two quirky personalities. "There's a genuine curiosity between them," Deschanel says. "They're getting a kick out of understanding each other and trying to see the other's perspective."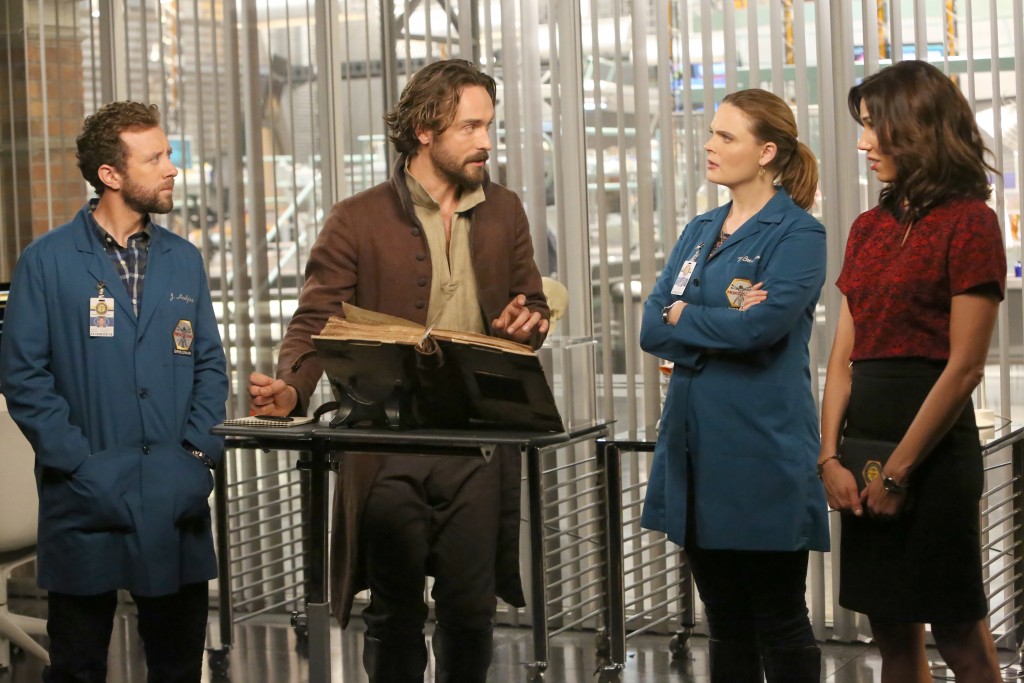 The will-they-or-won't-they nature of Sleepy Hollow's duo even inspired one Bones star to impart some words of advice to the Sleepy Hollow actors. "David was playing matchmaker for the characters off camera," Deschanel says with a laugh. "He said to Nicole and Tom, 'Are your characters going to get together? Because you should get together!' I'm sure the Sleepy Hollow viewers are rooting for them to get together at some point too."
RELATED: What Else Is Coming Up This Season on Sleepy Hollow
And when the time came for the tonal shift to be more mystical in the second hour, Boreanaz was up to the challenge. "Hey, I've done supernatural shows," he says, pointing to seven seasons playing vampire Angel on Buffy the Vampire Slayer and Angel. "So when we're talking about secret tunnels, oh, I've been in secret tunnels—and I know a whole lot about them!"
The Bones/Sleepy Hollow hybrid might be a one-off, but Fox Entertainment president David Madden admits the network is "definitely looking for other opportunities" for more crossovers in the future. "You want two shows that feel like they fit together," says Madden, who credits the success of last season's The Simpsons/Family Guy mash-up as instrumental in going forward with this event. "These kinds of episodes are usually big fun for the fans when they happen."
The actors even have their own ideas for future crossovers, with Mison suggesting Cosmos ("Have Ichabod and Neil deGrasse Tyson discuss the wonders of the universe!") and Boreanaz wishing for a cameo on every Fox series. "They've moved us around so many nights, why don't they just move Bones to all their other shows?" he says with a laugh. Now that might be worth investigating.
 Bones/Sleepy Hollow, Thursday, Oct. 29, 8/7c, Fox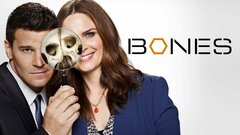 Bones
where to stream
Powered by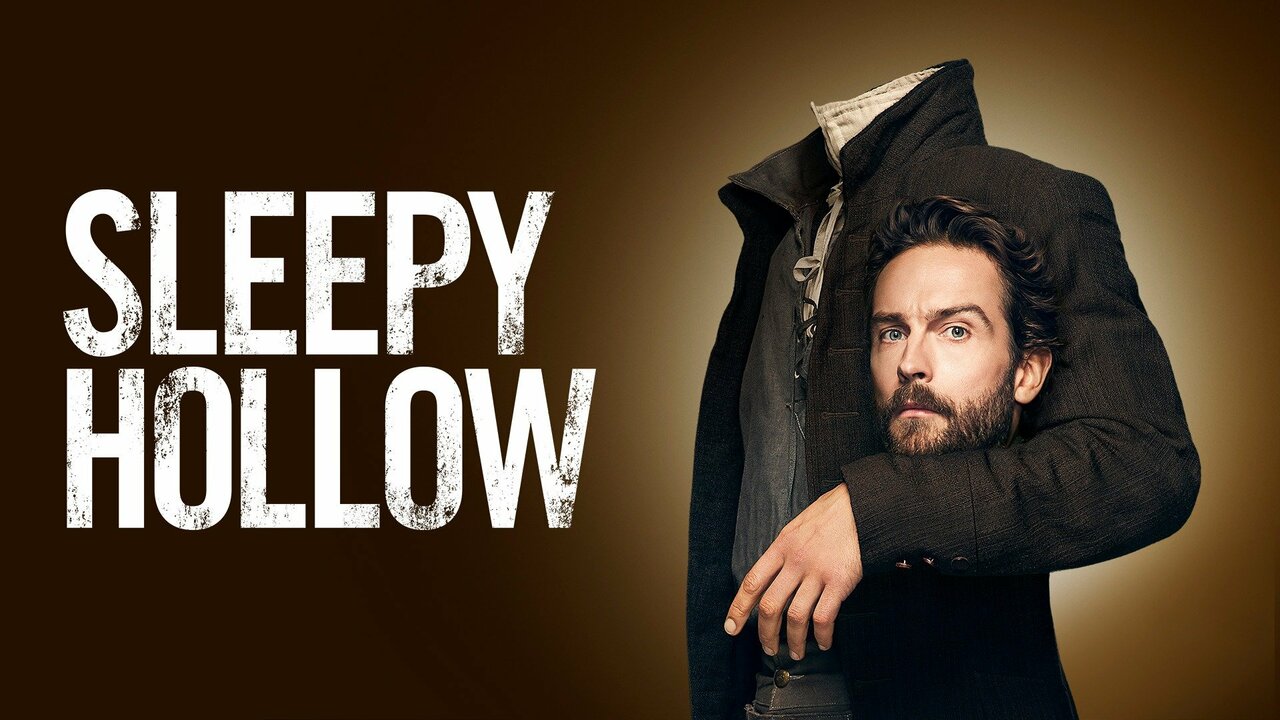 Powered by