'Fargo' Cast on Phrases They're Obsessed With Saying on the Show (VIDEO)
https://player.waywire.com/?id=99D2Y31R5D12PBQK
Actors really like accents, don'tcha know?
Just ask the cast of Fargo. We caught up with the critically beloved show's new stars Friday night before PaleyFest NY's panel to find out what phrases they're obsessed with delivering in that instantly recognizable dialect.
Kirsten Dunst, Jeffrey Donovan, Cristin Milioti, Jesse Plemons, Jean Smart, Bokeem Woodbine and showrunner Noah Halwey all weighed in on that. "I threw in a phrase that one of my buddies from Minnesota says all the time. 'Oh for cry-aye.' I just snuck it in, didn't ask anyone," shared Plemons.
RELATED: A Who's Who of Strong and Sinister Fargo Characters
The stars also revealed the hardest accent to master, which ranged from South African to Boston. "Right now, I'm Jack Kennedy in LBJ… That's been difficult to kind of pull off… after I just did Fargo. You don't want to mix Minnesota/South Dakota with Boston," said Donovan.
OK, then.
---
Questions? Ask Critic Matt Roush!
TV critic (and occasional TV therapist) Matt Roush answers viewer questions and concerns in his Ask Matt column each week. Wondering about plots, characters and twists on your fave shows? Submit your query to Matt via the form below: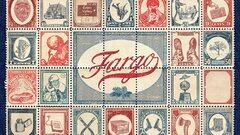 Powered by