An Unwanted Face Forces Meredith to Revisit Her Grief on 'Grey's Anatomy' (VIDEO)
4nzuwOvb
A blast from the (recent) past suddenly sends Meredith into an emotional tailspin.
On the upcoming episode of Grey's Anatomy, also a milestone 250th episode for the show, a casual dinner ends up going sideways when Meredith (Ellen Pompeo) realizes who Callie's new girlfriend is: Penny (Samantha Sloyan), the doctor who was unable to save Derek (Patrick Dempsey) last season. Picking up where the last episode left off, Meredith suddenly flashes back to the night of his death, and it's clear that she's still haunted by the events of that night.
Other events happening in the episode: April (Sarah Drew) continues to avoid Jackson (Jesse Williams), Maggie (Kelly McCreary) finds herself suddenly rushing to the hospital and Arizona (Jessica Capshaw) waits nervously to finally meet Penny herself.
RELATED: Grey's Anatomy Will Return to a Rom-Com Vibe
Watch a sneak peek of an upcoming scene from Thursday's episode, when all of Meredith's grief comes flooding back in an instant.
Grey's Anatomy, Thursdays, 8/9c, ABC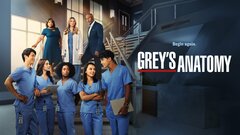 Powered by