Firefly Lights Up 'Gotham' (VIDEO)
If you think Gotham has been on fire since it returned for Season 2's "Rise of the Villains," just wait. Not only does Monday's tremendous mythology-expanding episode (8/7c, Fox) heat things up on the Theo Gallavan (James Frain) front, it literally starts to burn down the city with the introduction of DC Comics' Firefly. And for the first time since the character was introduced back in 1952, we're getting a female version of the arson-happy baddie.
"I actually had no idea I would ultimately be playing a villain," confesses Michelle Veintimilla, who kicks off a two-part appearance as Bridgit Pike, a parentless girl-turned-indentured servant to two arsonists called in to do a hot load of dirty work for Penguin (Robin Lord Taylor). "It wasn't until my first fitting with costume designer John Glaser that I discovered I'd be portraying the notorious [Firefly]! It was a huge surprise for me.
RELATED: Paul Reubens Joins Gotham as Penguin's Pop
Once clued-in, Veintimilla says she "immediately starting reading up on the different incarnations" of the supervillain "and quickly realized that Gotham was doing their own take on the character…a new, badass, female version!" A bit daunted by the task ("especially since I've been afraid of fire my whole life!"), the actress—who previously starred in The Chair contestant's Shane Dawson's film Not Cool—was relieved to hear from the episode's writers that the role would be more than just a troubled teen with a flame-thrower. "Bridgit's story goes beyond what you would expect. I'm really excited for everyone to see her story unfold and witness her transformation. It was incredibly empowering to get to play her as an artist and woman."
Part of that evolution is thanks to one of the nascent troublemakers already on the canvas, young Miss Selina Kyle (Camren Bicondova). After being bullied into joining the incendiary family business by her abusive "brothers," the tormented, sheltered Bridgit gets a little pep talk from her cat-like old friend from the orphanage, and it is this bonding moment, Veintimilla says, that ignites in Bridgit the desire to take back some of her own power. "You get to see her [change] right before your eyes. She starts out timid, meek, and deathly afraid of her brothers, and ends up transforming into a human firecracker."
As you can see in this exclusive photo above, Bridgit's costume, like all of Gotham's getups, is pretty damn cool. On the outside, at least. "Since I handled real fire on set, my costume consisted of many layers of fire-retardant fabric. It's very hot inside the suit," Veintimilla admits, adding that the homemade version from Monday's episode will actually change over the course of her appearances. Much like the character. "These two episodes arc her story before she becomes the full-fledged villain," she offers. "I'm excited to see what her actual villain costume will look like when we get there."
Knowing this show, it'll probably be scorching.
Plus, watch a video of Firefly heating things up below!
Gotham, Mondays, 8/7c, FOX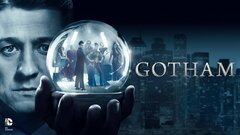 Gotham
where to stream
Powered by