Mel B. Gets Critical as a Guest Judge on 'Project Runway' (VIDEO)
https://player.waywire.com/?id=92XM4Y15D6DG10GY
Now that Mel B. and Heidi Klum have guest judged together on America's Got Talent, the former Spice Girl stops by Klum's other show, Project Runway.
In a sneak peek of tonight's episode, the remaining designers must come up with some future-forward fashion using 3D printing technology to create outrageous outfits. The pop icon offers her critique of the avant garde clothes, and we don't think Scary Spice seems too scary.
Watch the exclusive clip above of Mel B. giving her opinion on a piece that may or may not win.
Tune into this episode of Project Runway tonight at 9/8c on Lifetime.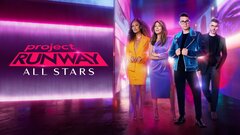 Powered by