'Long Live The Royals' Sneak Peek Features All-Star Voices (VIDEO)
Make way for a different kind of royal family when Long Live the Royals premieres on Cartoon Network later this fall. But before then, meet the family themselves in the exclusive sizzle reel which premiered at New York Comic Con.
Created by Regular Show's Sean Szeles, the miniseries—which is based on Szeles' Emmy Award-winning short—follows the lives of Queen Eleanor, King Rufus and their three kids Peter, Rosalind and Alex as they celebrate the annual Yule Hare Festival while trying to balance being a family with their royal responsibilities.
Related Matthew Lillard previews Boomerang's Be Cool Scooby-Doo!
The voice cast features Wendi Mclendon-Covey (The Goldbergs), Jon Daly (Kroll Show), Kieran Culkin (Fargo), Gillian Jacobs (Community) and Nikki Rapp (The Walking Dead: The Game).
Comedians Horatio Sanz, Fred Amisen, Ellie Kemper and Ken Marino will also lend their voices to the show.
Watch the exclusive reel and then tune into Long Live the Royals when it premieres later in the fall on Cartoon Network.
[jwplatform l0REjh2y]
More News From Comic Con: Sneak peeks, panel reveals and what's ahead on your favorite shows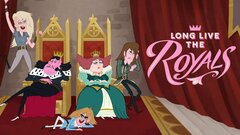 Powered by