WATCH: A Steamy Peek at the Season 2 Premiere of Ovation's 'Versailles'
Ovation's period drama Versailles returns Sept. 30, with an opulent second season. The new season follows the building of Versailles as King Louis VIX's (George Blagden) palace becomes a castle unlike any other in its size and grandeur. But for the Parisian nobles obligated to take up residence within its walls, it becomes a gilded prison filled with lust, secrets and murder.
In this exclusive clip from the premiere, Louis' enemy, William of Orange (George Webster), gets an update on the palace's plans and inhabitants. The preview also contains insight into some very steamy palace activities.
(Please Note: This clip contains partial nudity.)
Production has already begun on Season 3 of the opulent series.
Versailles, Saturdays beginning Sept. 30 at 10/9c, Ovation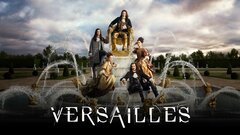 Powered by