'Agents of S.H.I.E.L.D.'s Iain De Caestecker: Fitz Will Do 'Anything and Everything to Get Simmons Back'
Hell hath no fury like a S.H.I.E.L.D. Agent in search for his lost love.
When Marvel's Agents of S.H.I.E.L.D. kicked off its season premiere last week, Fitz proved he was willing to go anywhere (like flying to Morocco) and do anything (like smashing into the Monolith case) to find Simmons.
We caught up with Iain De Caestecker to talk about Fitz's search for Simmons, his newfound confidence and the team's Asgardian ally.
How has Fitz changed since we saw him last season?
In the past, the idea of bravery was a big part of him, what that means and having confidence in what he does. After what happened in Season 2, he's now at this place where he's like, "What's the worst that can happen to me now?" He's got a lot more confidence in his own abilities, and he doesn't care about what happens to him anymore. He wants to get Simmons back so much, and the idea that she might not be able to come back is difficult for him. He's ready to do anything and everything to get her back. He still has the same level of fear of being out in the field and in scary, dangerous situations, but he's more able to cope with it.
In the last episode, he was ready to make a deal in Morocco. It was a whole new side of him.
Yeah. A huge thing that happened to him last season was his brain injury. For him the one advantage he had over other people was his brain—that was his weapon. So when he lost that, he felt like he didn't have anything  and that he didn't know where his place was. But what he learned was that he can't go back to the person he was before his brain injury. That's impossible. So he's embraced this new side of himself and become a new person. What's kind of an uplifting thing in is that he's kind of a better version of himself. He came out the other side a better person. He's still Fitz, but he can never go back to the person he was.
And we saw that he can speak Arabic and read Hebrew. Where do you think he learned all that? The academy?
Probably. These guys, Fitz and Simmons certainly, have gone through the academy and been at it for years. So there's all kinds of things that they've picked up along the way, specifically Fitz and Simmons, who've probably spent a lot of time before they joined S.H.I.E.L.D. locked away in a lab somewhere at their computers all the time. So they've had a lot of time on their hands to learn new things. But also Fitz when he was doing all his research into where Simmons is, probably picked up those skills on the way.
RELATED Agents of S.H.I.E.L.D.'s Melinda May Gets Her Own Comic 
We saw Fitz tell Coulson that he's not going to give up on finding Simmons. So what's his next move?
He kind of assumes that this Monolith has taken her to another planet. So for whatever reason, he's worked out that there's still hope, that there's a way to get her back. The team are going to try and get the help of an Asgardian who is hiding among us, Professor Randolph, who we've seen before. The team employs him to help unlock the mystery of what this Monolith really is, and Fitz is going to [find Simmons] with the same intensity as Episode 1, perhaps even more so. He'll still do anything and everything to get her back.
Do you have any theories on where Simmons might be?
It's all so hard to talk about because we find out episode to episode as well. Everyone had their crazy theories, but I don't think anyone was completely right. But it's clear she's not on Earth anymore, that's for sure.
Will we find out where she might be real soon?
Hopefully we will find out soon. We've always said, before the start of Season 3, that we will find out quite early on where she is and what's happened to her. At the end of Episode 1 [we find out] she's alive and that she's on another planet. But when and where and if she'll come back, I don't know.
[jwplatform YcRYHipt]
Marvel's Agents of S.H.I.E.L.D. airs Tuesdays at 9/8c on ABC.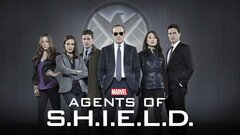 Powered by