Francisco San Martin Joins 'The Bold and The Beautiful' as a Conniving Masseur
He'll rub you the right way. Jane the Virgin star Francisco San Martin joins CBS's The Bold and the Beautiful October 2 as Mateo, a wildly handsome estate manager-slash-masseur hired to oversee the Forrester mansion. Mateo will quickly fall under the spell of whackjob villain Sheila (Kimberlin Brown), who pays him to seduce lady-of-the-house Quinn (Rena Sofer) so Sheila can make a move on Quinn's hubby, Eric (John McCook). But San Martin swears he's not playing a baddie! Here's his take on what's about to go down.
Why would your character risk a great job with the Forresters—one that could mean employment for life—in order to team up with Sheila?
Mateo is actually quite honorable and responsible. He has a lot of family issues, including a mother who is very sick and dependent on him. When Sheila entices him with money, he sees it as a chance to make his problems go away. The bond he feels with his family is everything to him, and I find that to be pretty common in the Latino world. I see it a lot actually. It's that "I'm going to take care of you no matter what" sort of thing.
What are you saying? That the B&B audience will be on Mateo's side?
He's always been the responsible one in the family, and that weighs heavy on him. I think a lot of people will relate, no matter your culture.
But isn't Sheila basically hiring Mateo to be a hooker?
She isn't quite that explicit. She tells him she used to be married to Eric and that she wants to be Mrs. Forrester again. She wants him to use his "talents" to get rid of Quinn. And he's like, "OK!" [Laughs] I don't think he has a problem crossing boundaries. His background in massage is going to come in very handy.
See Also
Will Thorne reunite with the luscious Brooke and drive his brother Ridge into a jealous frenzy?
We'll ignore that pun! So Mateo is feeling no guilt about this?
Oh, there's definitely a point where he's like, "I don't think I should break up a marriage!" But Sheila reminds him about how much he needs that money. And just as Mateo is starting to further his agenda with Quinn—when he's just starting to make a move on her—there's a moment where you can cut the tension between him and Eric with a knife. Eric is, like, "If you ever cross me, I will find it intolerable." So, yeah, Mateo could be risking an amazing job and an amazing future.
What the hell is an estate manager anyway?
You mean, you don't have one? [Laughs] I think it's something only super-rich people need. When you own a massive house there's always something going wrong, something that needs arranging, something that needs attention, and you have to have someone at your beck and call to handle everything. Mateo's nickname is "Mister Fix It." He's been doing massage therapy but this job that becomes available at the Forresters pays so much better, so he applies for it and gets it—even though he's not all that qualified. Hey, it's a soap opera!
On that topic, your first American soap role was on Days of Our Lives as the original Dario Hernandez, a gig that didn't last long. Is B&B a better fit for you?
The moment I showed up on the set at CBS I felt like everyone was really welcoming and very sweet. Without even trying, they were adorable and amazing. At Days, people were more standoffish, maybe because I was fresh from Spain and they really didn't think I was experienced. I get a very different vibe at B&B.
See Also
It's father vs. son on 'The Bold and the Beautiful' and Dollar Bill Spencer could be the big loser
You also play telenovela star Fabian Regalo del Cielo on Jane the Virgin, who seemed to be a really dreamy and promising love interest for Jane until he turned out to be a sexist pig. He's horrible!
Oh, Lord, just wait! I just shot another episode a couple of weeks ago and it all takes a turn for the worse. Fabian was outraged that Jane wanted sex with no strings and he really wanted a commitment, which was such a different spin on male-female relationships. He did not react well. The writers do the craziest things over there. I loved it! Fabian is just not that bright. Fans reach out to me on social media and say, "I can't believe what a d–k you are on Jane the Virgin!" There's no "Hi!" or "Enjoy your work!" or anything like that. Just "You're a d—k!" [Laughs] I guess I'm doing a convincing job!
The Bold and the Beautiful, Weekdays, CBS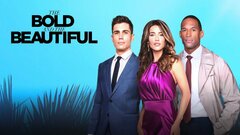 Powered by