Two-Time Oscar Winner Sean Penn to Make TV Debut in New Hulu Series
Sean Penn is set to make his small-screen debut in Beau Willimon's new series, The First, a drama commissioned by streaming service Hulu and the U.K.'s Channel 4. The two-time Academy Award winner's role is being kept under wraps, but the show is set to explore the first manned mission to Mars and the colonization of the red planet.
The drama will have eight episodes and not only focus on the astronauts' mission but on their family lives, as well, plus those they left behind on Earth.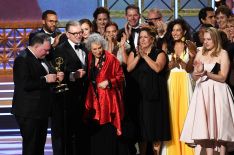 See Also
'You could say the handmaids have escaped,' she said. 'They're out there. And they're coming to you again in Season 2.'
Willimon has had tremendous success with steaming series. He created House of Cards for Netflix, and on The First he'll serve as a writer and executive producer.
Production is being planned for this year, with a release on Hulu in the United States, and on Channel 4 in the U.K. and Ireland, in 2018.
Willimon said of working with Penn: "I have such deep admiration for Sean's immense talent and extraordinary body of work. I feel very lucky to be collaborating with an artist of his caliber."
The First, Hulu, Coming in 2018