Matt Interrupts His Parents Doing the Deed on 'Life in Pieces' (VIDEO)
https://player.waywire.com/?id=MZT2FB3J266Z7YBT
Moving back in with your parents will have its pitfalls, as Matt Short (Thomas Sadoski) soon finds out. When he goes in search of his iPhone, what he finds instead is…his parents, John (James Brolin) and Joan (Dianne Wiest), having some personal alone time.
In order to process what he's seen, he goes to therapy…except, his therapist is also his mom. Which makes for one very, very, very awkward conversation.
RELATED: Meet Each Family Member of Life in Pieces
Watch a funny exclusive clip of the Life in Pieces scene, from the episode "Interruptus Date Breast Movin'" which airs on Monday. Other "Short" stories featured in the episode include Matt and his boss, Colleen, going on an "enjoyably bad date," new mom Jen (Zoe Lister-Jones) hiring a breastfeeding consultant couple for advice, and Heather (Betsy Brandt) and Tom (Dan Bakkedahl) using a moving company that employs ex-cons.
Life in Pieces airs Mondays at 8:30/7:30c on CBS.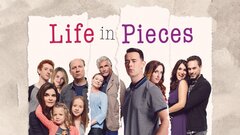 Powered by