Roush Review: 'Homeland's New Season Is 'Wildly Suspenseful'
Just when she thought she was out, Homeland pulls a seemingly content, sober and domestically at-peace Carrie Mathison back in, taking the viewer right with her. Uncannily timely and wildly suspenseful, this sometimes-erratic thrill ride is back in top form in its fifth season, plunging Carrie (the superb Claire Danes) into a hornet's nest of topical intrigue, involving Syrian refugee camps and a leaked CIA data breach that imperils U.S. relations with Germany.
RELATED: Carrie Gets Pulled Back Into a Complicated CIA World
Now working in Berlin for the private sector, estranged from a hardened Saul (Mandy Patinkin) and an ice-cold Quinn (Rupert Friend), Carrie soon realizes that there's no escaping her past. "You can't atone for that much blood, for that many souls," she cries as the paranoia mounts and we fear watching this damaged patriot once again spiral out of control. Hitchcock would have loved this show.
Rating: Five stars (*****)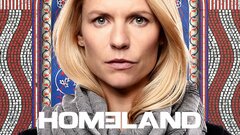 Powered by