Michelle Obama Will Guest Star on Disney Junior's 'Doc McStuffins' (VIDEO)
Our FLOTUS will be stopping by Disney Junior's award-winning animated series Doc McStuffins on October 5.  The date also coincides with Child Health Day and is sure to be rife with messages from Michelle Obama's Let's Move! initiative.
In the episode, titled "Doc McStuffins Goes to Washington," the First Lady invites Doc and other children like her, who are making waves in their communities, to be honored at the White House for a special ceremony. While there, she will declare the lovable Doc as the official "toy doctor" for the White House.
With a long list of television appearances that includes the late night circuit, Sesame Street, The Night Shift, Jessie, Nashville, Parks and Recreation, iCarly, Billy on the Street and more, it's no surprise the First Lady will be stopping by the animated program.
You can also see Michelle Obama later this month on The Late Show With Stephen Colbert, airing September 28, and on the new fashion spin-off Project Runway Junior, airing December 10 (the series premieres November 12). Meanwhile, her POTUS hubby is gearing up for Running Wild With Bear Grylls later this year.
WATCH Disney Junior and the WATCH Disney Junior app will debut a full-length preview of the special episode on Monday, September 28. In the meantime, watch a clip of the upcoming episode below.
The "Doc McStuffins Goes to Washington" episode airs Monday, Oct. 5 at 9 am on Disney Junior.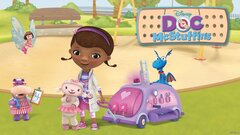 Powered by