Alfonso Ribeiro's Your Fresh New 'America's Funniest Home Videos' Host
Get ready to bust out your best Carlton Dance, 'cause Alfonso Ribeiro is heading to America's Funniest Home Videos. For Season 26, the Fresh Prince of Bel-Air alum—and former Dancing With the Stars champ—will take over the mic from longtime host Tom Bergeron to crack wise over footage of precocious toddlers and klutzy adults and their furry friends. Here, he reveals what makes him bust a gut.
Is DWTS what put you on the radar for this gig?
It got it all rolling! The overwhelming support I got from viewers showed ABC that America doesn't forget what they feel about you. And Tom Bergeron said that I was his choice to replace him, which was the ultimate confidence builder.
Which videos tickle your funny bone the most?
I'm a big fan of epic fails. I never want to see someone get hurt, but it is fun watching them truly fail. Like deciding to do some flips off the roof into the lake, and they don't make it the way they wanted to? I love that.
RELATED: 3 Must-Watch Reality TV Shows
Anything that doesn't get a giggle out of you?
Honestly, I don't quite get people's infatuation with animal videos. I'm a human being who loves other human beings.
How often do you still get asked to do the Carlton?
Basically every day of my life—and I never do it. I mean no! The idea of me dancing constantly for strangers is a bit insane. But it doesn't stop them from asking!
America's Funniest Home Videos, Season premiere, Sunday, Oct. 11 , 7/6c, ABC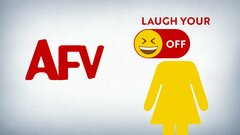 Powered by