'CSI's George Eads Reveals the One Way He Didn't Want His Character's Story to End (VIDEO)
qqI0Bd3F
The Las Vegas crime investigations officially come to an end when the procedural juggernaut CSI finishes its 15-year run with special episodes this Sunday, September 27 .
Although George Eads (who has played investigator Nick Stokes since the beginning) won't be returning for the two-hour special, fans of the show can watch an exclusive clip from the The Final Season DVD, which was released on Tuesday, September 15.
The clip, from a DVD-only retrospective of Nick's memorable moments, shows Eads and co-star Ted Danson (who plays boss D.B. Russell) discussing Nick's career journey and the end of his story. Find out the one way Eads definitely didn't want his character's arc to conclude (hint: he brings up Butch Cassidy and the Sundance Kid).
Other special features on the DVD include interviews with the cast and crew, behind-the-scenes looks at the season's more memorable episodes and featurettes on forensic gadgets and elaborate crime scenes.
The CSI: Crime Scene Investigation – The Final Season DVD is now available.
More CSI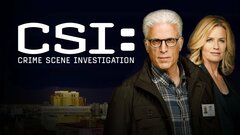 Powered by