'Saturday Night Live's New Anchors Colin Jost and Michael Che Give Us the Weekend Update
Live from New York…it's Season 41 of Saturday Night Live! The seminal late-night NBC sketch series returns October 3 with host and musical guest Miley Cyrus, a new cast member (stand-up comedian Jon Rudnitsky) and a very busy summer news cycle to lampoon. Weekend Update anchors Colin Jost and Michael Che break down the controversial 2016 presidential race and share their thoughts on the buzzed-about upcoming season.
How are preparations coming along?
Che: Pretty great! We walk around the office and smell
each other's butts like dogs in a dog park to get to know each other a little bit better.
Which summer news stories have stood out to you guys?
Che: I really like that Rachel Dolezal. [Laughs]
Jost: Did you hear that Trump's running?
Che: Oh, man, that's going to be fun.
Jost: I think that will be a recurring theme [this season]. He might be around for some time.
What do you make of his campaign?
Jost: It's the best. Otherwise, no one would care about the election right now. He's the only reason people are talking about it, so that's good for politics, even if people think he's destroying [politics]. He's already said so many crazy things.
Jost: And I have confidence that he'll find more.
Che: The cool thing about Trump is he's said awful things his entire life, so they don't even have to do a background search on him. He has a treasure trunk of awful things he's said, but we're just pulling out all the stuff he's saying now.
Jost: He's said he doesn't even have an adviser. That's very clear! [Laughs]
Che: I don't know what insane asylum they're taking these polls from, where Donald Trump is actually in the lead and [satirical candidate] Deez Nuts gets 9 percent.
Jost: He's even tougher on immigration, it turns out.
What were your thoughts on the first Republican debate in August?
Che: The Republicans are always a circus of loons. It's always one dude that's kind of OK, but just by association you don't want to vote for him. It's like the first episodes of American Idol when they have the worst people audition. Like, that wasn't serious, was it?
Jost: It looks like the same set too. [Laughs] That debate was also like a museum of bad haircuts. All their stylists should be fired. I've never seen that many bad haircuts.
Che: It looked like they were all there to yell at their barber.
What do you think about Hillary Clinton's email scandal?
Jost: It's bizarre, because the way she's going about it worries me. I don't believe she's deleting content that's really that important, but why she was deleting certain things in general is very strange to me.
Che: The good news for Hillary no matter what happens is she doesn't have to be the perfect candidate; she just has to be better than Jeb and Trump. And it don't take a lot to be better than a guy whose last name is Bush and another guy whose last job was judging Miss Universe.
Jost: Which he was fired from!
Che: All she has to say is "I'm not them" and she's already got my vote.
Since we're more than a year away from the election, should we be taking any of this seriously?
Che: No. I don't think it matters in the long run. Hillary and Jeb and people who are serious candidates don't even have
to answer that many questions right now. Once it starts to really heat up and the candidates are more established, it will be more important.
Jost: I think there's a chance a third person will come into the mix somehow.
Che: This race hasn't even started. Right now is a silly time when everyone is just being crazy and anything can happen, but it will start to get real around February.
Obama's coming up on his final stretch in office. Thoughts?
Che: I like that he's gone rogue. This is like his Brewster's Millions year! He's gonna pitch for the Yankees or something!
Jost: Whenever there's an election, people pay more attention to all news in general. It's like a rising tide raises all boats. Is that a phrase?
Che: I've never heard it.
Jost: I think rising tides destroy all houses.
How are you feeling about your first host and musical guest this season, Miley Cyrus?
Jost: She is up for anything. She's daring, smart and knows what people are drawn to or what will make people react.
Che: She really loves the show, and she trusts the writers and the process. So we don't feel restricted in writing for her because we know she's going to be great. She's been acting as long as she's been singing, so she's got the chops. She also knows how to toe the line so it's something that can be on TV while still pushing the line where it's something exciting to watch.
What excites you about having Amy Schumer as your second host?
Che: I think it's going to be cool since she does a sketch show. I love Amy. We both know her from the stand-up world.
Jost: I'm trying to think of the last time we had someone on who also had a sketch show.
Tracy Morgan will be hosting the October 17 episode, a very rare public appearance since his nearly fatal 2014 car accident. Is it exciting having him back?
Che: It's really good to see him in great shape and in good enough spirits to do comedy. If Tracy was only coming to visit, it would be just as exciting.
Jost: We were hoping he was going to come to the 40th [anniversary special in February], but he still wasn't physically able to. I think it will be a really special moment to see him back on his feet and doing what he's great at.
Weekend Update has always been the centerpiece of SNL. Do you feel more pressure or scrutiny than other cast members?
Che: I try not to because, at the end of the day, it's just comedy. You're going to get people to laugh at something important and something stupid, so you have to have a good time with it. You never know what's going to score or resonate—it could be one line or a whole segment. We don't put anything out there that we're worried about. We just do the jokes as best we can.
Jost: I think everyone feels the very normal human pressure of being on live television in front of millions of people. But you learn to have more fun with just the audience in front of you.
Che: Wait, do you mean we should get paid more? Because we do deserve raises! [Laughs]
Today's news is also saturated with serious stories about mass shootings and racial tensions. How do you put a comedic spin on that?
Che: These things get covered so much that everybody's making their own jokes now anyway. So it's almost desensitizing everybody from it just because it's happening so often. It becomes a weird thing.
Jost: Also, weirdly less newsworthy.
Che: Which is also scary! I don't know how to fix that.
Jost: I don't think you particularly have to fix it.
Che: I'm pretty sure that's my job, to fix it. This year, we've got to fix gun control, man. Either that or Deez Nuts is gonna do it! [Laughs]
Saturday Night Live, Season premiere, Saturday, Oct. 3, 11:30/10:30c, NBC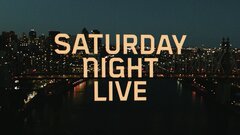 Powered by