Andrew Lincoln Teases Killer Rivalry With Negan in 'The Walking Dead' Season 8
It's all-out war! The season premiere of The Walking Dead—the show's 100th episode—pits the steely heroes led by Sheriff Rick (Andrew Lincoln) against the nefarious forces under the command of nutcase Negan (Jeffrey Dean Morgan). Lincoln logs a few thoughts.
This has been a killer rivalry. Do we really want to see Negan go down?
Everywhere I go in the world people stop me to say, "Will you please kick Negan's ass? Enough already!" But I find their relationship—and how each sees a part of himself in the other—to be quite thrilling. [Laughs] If Negan must eventually get his just deserts, maybe we can stretch it out a little?
See Also
AMC also released Comic-Con art for the second half of 'Fear the Walking Dead' Season 3.
The Season 8 trailer shows Rick as a gray-haired senior. Is it a dream? A fantasy? A flash-forward?
It's top secret, of course, and it's thrown a real curveball at the fans. I'm choosing to ignore the whole thing. I couldn't even look at myself in the old-age makeup. Couldn't bear it. I don't watch the show at all. I am allergic to my own face.
Executive producer Robert Kirkman recently emphasized that Rick won't make it to the end of the Walking Dead comics. How's that feel?
I'm sad hearing that. But if it happened in the series it would also be a huge relief. I love the idea of completion. This has been an astonishing ride, but I need to cash in at some point. I know some fans hope for a happy ending to the show—like a cure for the zombie virus, perhaps. But, knowing Kirkman, I wouldn't bet on it!
The Walking Dead, Returns Oct. 22, 9/8c, AMC @WalkingDead_AMC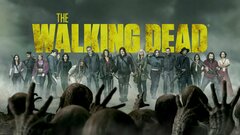 Powered by