'You're the Worst' Season 4 Premiere: Hookups, Mania and More
Warning: This post contains spoilers for the You're the Worst Season 4 premiere, "It's Been."
With You're the Worst's Jimmy (Chris Geere) and Gretchen (Aya Cash) on the outs, a new sort of coupling has emerged: Lindsay (Kether Donohue) and Edgar (Desmin Borges).
The duo, newly bumped up from self-aware sidekicks to the responsible leads (in the aftermath of Jimmy and Gretchen's spirals), were slightly horrified to discover the shift in their roles and role-played their take on their struggling friends…only to end up in bed together.
But this isn't a romance: The duo will instead embark on being friends with benefits.
"They stop and realize they're both focused on other things, and they're not in danger of catching feelings," executive producer Stephen Falk says. "They don't have to look for it elsewhere. We thought about it long and hard in the writers' room, and it seems like they're suited to maintain that. Edgar may have had a hard time [with the arrangement] in Season 2 when he had a crush on her. But now, he is really focused. I never see on TV shows, and certainly not in real-life, actual friends with benefits that are able to continue. It feels like a losing proposition. We thought it would be fun to portray that."
Not doing as well is Gretchen, whose voluntary three-month confinement to Lindsay's new apartment led to manic behavior (and a little bit of crack use).
"We haven't gotten a clear diagnosis of what she has, but it definitely feels like she's in a manic state [this season] rather than a depressive state," Cash says. "I think there's going to be some confusion about whether she's on crack or whether she's manic. It's a bit of both. It's her mind speeding along. I think it's definitely a symptom of that, and also how she's reacting to her breakup. With that kind of breakup, even the healthiest human is going to flip out a little bit. It exacerbates something she already struggles with."
But, to be clear, Gretchen is actually still on her medicine. "We make sure to give lip service to the fact that she's continuing therapy even though her therapist left town…she's been continuing therapy and taking her meds," Falk says. "She's just barely hanging on, sanity-wise. But as far as her actual clinical depression, I think, in weird ways, she has bigger fish to fry. She may be on a bad course, but she's in a phase of manic refusal to deal."
And she may be not be able to hide for long. With Jimmy back in Los Angeles, simmering on the backburner is the inevitable reunion for the former couple.
"He truly believes she's going to let him off easily—how wrong he is—and that he can talk his way out of it," Geere says with a laugh. "He's used his intelligence and his articulation to get himself out of a lot of tricky situations before, but this is going to be one that requires him to grow up a bit. To be a bit more emotionally aware than he's ever had to be."
However, Gretchen's reaction will not be what Jimmy was hoping for. Previews Cash, "She goes from being hurt to freaked out to very, very angry and punishing."
You're the Worst, Wednesdays, 10/9c, FXX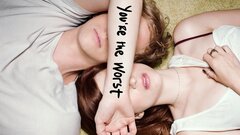 Powered by