'Big Brother': In Paul They Trust (RECAP)
This season of Big Brother has been relatively tame in terms of game play, that is up until this week when alliances were broken, and blindsides were implemented. As if this week's drama wasn't enough for the houseguests, a surprise double eviction certainly spiced things up.
Between tense moments in the house were some exciting CBS related news including the incorporation of Bobby Moynihan as veto host while promoting his upcoming show Me, Myself & I, as well as the announcement that Big Brother will return this winter with a special celebrity season.
The numbers are beginning to diminish and this was the week where the houseguests finally made the realization that turning on your allies are a necessary evil. For all of the twists, turns and in depth recap proceed with caution because there are juicy spoilers ahead.
The Cast
Alex
Up until now Alex has had a good idea of the goings on in the Big Brother house, but this week one of her allies deviated from the plans she believed were being implemented. After Christmas won Head of Household which everyone purposely lost, Alex offered herself up as a pawn on the block, thinking that Kevin was the target for the week. Little did Alex know that Paul was in on Christmas' plan to backdoor Jason, and went along with her nomination under the guise that Kevin would be replacing her on the block to be evicted.
Although she had her suspicions of being on the block next to her partner, Alex felt reassured when Paul used the power of veto to give her safety. On eviction night Alex was nearly just as blindsided as her partner Jason, when she saw him walk out the door, only strengthening her determination to win when double eviction was announced. In the second half of the night, Alex pulled off and HOH win, and put up Kevin and Raven, both safe choices for her game play. While Alex remains safe for now, her association to Jason may be her ultimate downfall as she remains a threat in the game.
Christmas
The week began with an HOH win for Christmas, and she put no waste to her power by aiming her sights on duo Alex and Jason. Even after Christmas nominated the partners, there was little backlash, she played a low-key game while maintaining her honesty. She never told Alex or Jason that they were safe, but due to their blindness over their own safety, the duo were complacent for the week. Ultimately, Christmas had to take the final shot and break the tied eviction votes and take on the guilt of blindsiding Jason.
Jason
This rodeo clown rode his last leg of the Big Brother game and no one was more surprised than him. After Paul convinced him and everyone else to let Christmas win the HOH competition, Jason went into the week believing he was safe. The first instance of uneasiness expressed by Jason was sparked when he was put on the block beside Alex, he couldn't understand why both of them had to be nominated, but rather than exploring that suspicion, Jason just went along with the plan. After the eviction ceremony, it was clear that Jason never expected to be evicted from the house, and neither his closest ally Alex.
Josh
This meatball was a perpetual puddle of tears this week as every choice Josh had to make conflicted with his morality. Unlike his closest ally Chrismtas, Josh did not feel good about targeting Jason, who he thought of as a friend. The choice to target Jason was mutual between Paul and Christmas, but Josh observed obvious flaws with this plan, as he pointed out that he and Christmas would take heat for the surprise blindside while Paul would remain squeaky clean.
Sure, Josh likes to create chaos with saucepans, but he is more observant than his fellow competitors may have once believed. In the double eviction festivities, Josh pulled off a power of veto win, allowing the nomination of Raven and Kevin to stay the same. Despite being one of Paul's alliance members, Josh could be his biggest potential threat as he seems to be the only player to have caught on to Paul's blurred lines approach.
Kevin
Unlike his fellow nominees this week, Kevin had resigned to the fact that he was probably going home, and that seemed like the course of action up until this week. Instead of fighting the odds against him, Kevin decided to face his probable fate without complaint. Only time will tell if Kevin will make any game defining moves, but it wouldn't be a surprise to see him put up on the block, since he was there twice this week.
Raven
Just like most weeks this summer, Raven had a rather nondescript game, staying on the periphery of the drama in the house. Since her partner Matt was evicted, Raven's low-profile approach seemed like the smartest course of action, but it wasn't enough to outsmart a double eviction. This joyful jumper cartwheeled her way out of the door just moments after Jason, with no time to pack her things. Her exit was in stark comparison with the previously evicted houseguest.
Paul
Unbeknownst to the houseguests, this is Paul's game and they are all his puppets and even Bobby Moynihan knows it. Every move made this week was in some way attached to Paul and he continues to pull the strings with ease. The puppet master has kept blood off of his hands so far, but he is walking a tightrope as Josh is on to his methods. Jason also made a comment after his eviction about Paul's false friendships, showing viewers how blind they have been to Paul's game play. Unless someone calls Paul out in a big way, his spot in the final three is almost a guarantee.
Most Dramatic Moment of the Week
The first moment of the week would have to be when Josh confronted Paul about his use of the veto to save Alex. Josh wanted Paul to refrain from using the veto, but Paul was dead set on doing the opposite. Josh made the point that by using the veto on Alex, all the blood from Jason's eventual eviction would be on his and Christmas' hands while Paul got off clean. The fight still seems unfinished, but it remains to be seen if it the two will revisit the conflict.
The other moment this week would have to be Jason's exit from the house, from the moment the news was announced, Jason collected his bag and headed straight for the door without a word or hug. His anger was obvious as he sat beside Julie for the post eviction chat, clearly Paul isn't getting Jason's jury vote.
Cutest and Funniest Moment of the Week
It is always nice to have some light moments to balance out the drama, and Alex was the one responsible for them this week. Alex's love of scaring her fellow houseguests has been no secret, but the antics were in full force this week, one of which included her hiding in the bathroom vanity and popping out the moment Jason entered the room.
'Showmances'
The final showmancer was voted out of the house this week when Raven was sent out the door. It will be interesting to see how the showmance couples gear their votes in the finale, since five out of six of them will be on the jury.
Rating
With so many twists and turns it would be a crime not to award this week with 5 vetos out of 5.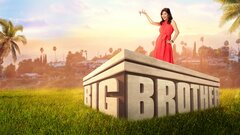 Powered by