'Arrow': 9 Burning Questions About Season 4
Despite so much death, darkness, and a massive team deception, Arrow's third season managed to end on a happy note—especially for a certain flock of shippers. But can Oliver Queen (Stephen Amell) and his Starling City compatriots keep on smiling in Season 4? Executive producer Marc Guggenheim knows all, and he told us…some. (Also, get more answers at the Arrow/DC panel at Comic-Con, and visit TV Insider's Comic-Con page for more features.)
Oliver just retired from his Arrow gig and headed off into the sunset with Felicity (Emily Bett Rickards). Where does the show go from here?
Part of the plan, Guggenheim says, involves "reconstituting the show," lightening things up a bit and unveiling a new green-hooded vigilante tasked with saving Starling City. "How we get to that place will be answered in the season premiere."
This new vigilante is still Oliver, right?
Yes, but our hero will be rocking a different look. "There will be a brand-new costume…it's an evolution of his old one," Guggenheim says.
Speaking of costumes, Oliver suggested that Diggle (David Ramsey) use a mask if he plans to keep fighting crime. Is he set for a new look as well?
Not a mask, per se. "Part of the appeal of that character is that he is the 'normal guy,' so we're not looking to turn him into a superhero," Guggenheim explains. "At the same time, we want him out in the field more, and he needs to have a means of concealing his identity—especially now that he has a wife and kid." The solution to this problem will also be unveiled in the season premiere.
Plus: Get more Arrow news on TV Insider's Comic-Con page.
Since the old lair was raided, where is everyone going to hang now?
Start packing your bags, kids! Guggenheim says the gang will be moving into "an absolutely amazing" new hideout fit for the show's growing ensemble. "Even though Felicity gave the hideout an upgrade in Season 2, the original plan for the show didn't anticipate a Team Arrow," he says. "We knew Digg would be part of Oliver's crusade and that was it. We hadn't even invented Felicity or brought Roy [Colton Haynes] on to the show when that set was designed for Season 1. So it was meant to be a two-man set…and it's gotten crowded!"
What's ahead for Laurel (Katie Cassidy), aka Black Canary?
We can confirm that the leather-clad Ms. Lance is a full-fledged member of the team coming into Season 4. "For the longest time, Oliver was opposed to Laurel being Black Canary, but in the finale, he finally acknowledged that she was a legitimate part of the team," Guggenheim says. This acceptance positions her to "be a lot more involved in the stories," including an interesting situation with her father [Captain Quentin Lance, played by Paul Blackthorne], as well as "one big development for her" that the producer can't talk about yet.
Wherefore art thou, Nyssa?
Of League of Assassins renegade Nyssa al Ghul (guest star Katrina Law), Guggenheim will only tease that "we're certainly hoping to have more scenes between Laurel and Nyssa again."
What light can be shed on Damien Darhk?
"What can I say? We decided to go evil!" laughs Guggenheim, confirming that the as-yet-uncast former League of Assassins member and frenemy of Ra's al Ghul will be the big bad guy for Season 4. "We have some exciting ideas for that role…as well as some surprises up our sleeves."
With Malcolm Merlyn off in Nanda Parbat running the League of Assassins, does that mean less screen time for John Barrowman?
Au contraire, Merlyn's rise means a ménage à Barrowman: Guggenheim confirms that his character will factor into Arrow, The Flash, and the spinoff DC's Legends of Tomorrow.
Finally, we noticed that Oliver and Felicity didn't use protection in Nanda Parbat. And given that he already has a kid out there…
"He's not that fertile!" laughs Guggenheim. "I can tell you that Felicity is not pregnant." Guess Baby Diggle will have to do for now.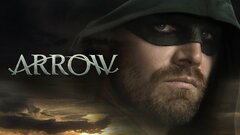 Arrow
where to stream
Powered by