Jason Momoa Is a Pirate and Jack McBrayer Is Andrew Jackson on 'Drunk History' (VIDEO)
Allan McLeod (You're the Worst) may be too intoxicated to operate an ice cube tray, but as narrator he's just sober enough to recount the history of early 1800s New Orleans in this exclusive clip from tomorrow's episode of Comedy Central's Drunk History.
McLeod's story revolves around the exploits of the pirate Jean Lafitte (played by none other than Aquaman himself, Jason Momoa), who ran a "majulor spuggling" ring, or "major smuggling" ring to those who aren't a few drinks in, and helped out in the fight against the British during the War of 1812.
Series creator Derek Waters also makes an appearance to put a bounty on Lafitte's head as Louisiana Governor William Claiborne, while Jack McBrayer's Andrew Jackson tries to hog all the New Orleans fighting for himself.
Watch the video below for the prologue, and find out how the inebriated version of Lafitte's story plays out when the full episode airs Tuesday, September 15 at 10:30/9:30c.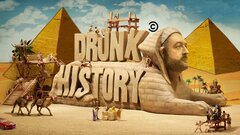 Powered by