'Gotham': Watch Nygma Battle His Inner Riddler in This Season 2 Sneak Peek
There's double trouble brewing for Gotham's Edward Nygma (Cory Michael Smith) when the drama kicks off Season 2's "Rise of the Villains" storyline. Having brutally killed the cop who was abusing his beloved crush, Kristen Kringle (Chelsea Spack), GCPD's previously mild-mannered forensics nerd will develop a split personality to deal with the trauma—meaning that the sooo good Smith will finally get some more screen time.
"It was a slow burn [last season] and I am so happy we took our time with this guy to see what a boring kind of life he had," says the actor. "He is this happy-go-lucky guy who can't catch a break…no one would want to be him."
No one should want to cross him now, either. Nygma's dark side is way edgier than the riddle-loving Edward we're used to, although Smith cautions that it will take even more time for Ed to transition from meek geek to full-on DC Comics madman. "The other half of him is definitely not the Riddler [yet]," he says, likening his character's psychotic schism to an "ego vs. id" battle. "He is so tightly wound, the other part of him has to break out. And what's been so fun is that is that it is a very realized person he is communicating with, but it's all in his head."
And apparently, based on this exclusive clip from the season premiere, Edward's darker (and hotter!) half has no problem making himself known, no matter who else is around.
Gotham returns to Fox on returns Monday, Sept. 21, 8/7c.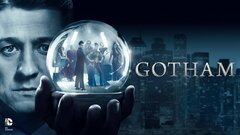 Gotham
where to stream
Powered by