The 'Supergirl' Cast Would Jump at a Chance to Tango With Thor (VIDEO)
https://player.waywire.com/?id=N3XL4S3F07J1H7MR
When Melissa Benoist and the central cast of CBS' new Supergirl stopped by the TV Guide Magazine/TV Insider yacht at Comic-Con, the real chemistry between the co-stars was evident. They're a raucous bunch, and they have lively conversations about everything, from crossover shows to what they're binge watching.
David Harewood (who plays Hank Henshaw, aka. Cyborg Superman) pitched the ultimate crossover show: Dancing With the Superheroes, in which Batman, the Joker and Black Widow all take to the floor to show off their ballroom dancing skills. "I want to tango with Thor," admitted Mehcad Brooks (who plays photographer James Olsen). "Because he's got long, luscious hair."
And when they're not filming, they're binge-watching a wide variety of shows like: The Walking Dead, Game of Thrones, House of Cards, Fargo and Alaska: The Last Frontier. Watch the video above to hear the cast also talk about spotting pastel-colored Chewbacca girls at SDCC.
RELATED: More Comic-Con Features | Video chats with the casts of The Flash, Arrow, Gotham and more.
Questions? Ask Critic Matt Roush!
TV critic (and occasional TV therapist) Matt Roush answers viewer questions and concerns in his Ask Matt column each week. Wondering about plots, characters and twists on Supergirl? Submit your query to Matt via the form below: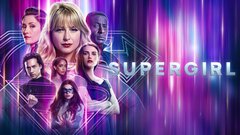 Powered by