Genoa City Shocker: Ray Wise on His Return to 'The Young and the Restless'
Fans of daytime's top-rated soap, CBS's The Young and the Restless, got one hell of a surprise during the September 4 episode when it was revealed that smarmy badass Ian Ward—played by Emmy winner Ray Wise—is the mastermind behind the Paragon Project, a cyber-plot to bring down Victor Newman. Crazier still, he's in league with Victor's son, Adam. Will this sinister scheme succeed? And how on earth did Ian get out of jail? We weaseled a little scoop out of the Wise guy himself!
Ian started out as a creepy cult leader back in the hippie era, and then he became a New Age author and guru.
[Laughs] He prefers the term "life coach."
And now he's an Internet raider? Explain this.
He's the ultimate confidence man. He can do anything. And he wants revenge. He's been slapped or punched by pretty much everybody in Genoa City. He can't move on with his life because he still has scores to settle. He and Adam will really have the whole town in turmoil. It will be major…monumental! The viewers are going to be quite surprised by the scope of the havoc Ian and Adam will raise.
That sounds like Ian will end up controlling Victor's company and maybe Jack's too.
Oooh. [Laughs] That's a great thought. There's also someone in town who fascinates him. Someone he has a liaison with. Someone of the female persuasion.
Someone he's pathologically obsessed with, like he was with Nikki Newman?
That's safe to say.
How did Ian get out of jail?
There is an explanation coming. You'll know exactly how it happened, and it's all perfectly laid out and legitimate. But what horrible things did he do, really? Okay, so drugging and kidnapping Mariah and trying to marry her was not a nice thing. But he didn't actually harm her in any substantial way. [Laughs] And he did get her a nice wedding dress. Why should he be in jail?
RELATED: Justin Hartley and Melissa Claire Egan on the Big Adam Reveal
You don't need this gig. You're one of the busiest and most admired character actors in the biz. What makes the daytime soap experience so special for you?
I don't know why any actor wouldn't jump at the chance. Y&R gave me a great character with great lines to say and the people there are a wonderful bunch. In daytime, your chops have to work on all levels. It can be fast, difficult work but, when the day is done, you have a great sense of accomplishment and satisfaction. It's something to really be proud of, and no one should be snooty about it. I could not love it more.
Were you surprised to get the call that your character was coming back?
I certainly hoped it would happen but you can never be sure about these things. I did put it out there.
The night you won your Emmy for playing Ian, right?
Yeah, in my acceptance speech I kind of sold it. I said, "I'm in jail, but I sure would love to get out!"
After your long and enviable career, don't you find it odd that you won your first and only Emmy for this?
Yes, but it's a weird kind of poetic justice. When I did Twin Peaks I couldn't get a nomination to save my life and I can't think of a character in the history of television who went through more than Leland Palmer. But here I am with Ian Ward. He's doing it for me and I couldn't be happier. I finally got that statuette and, I promise you, it is not going to tarnish!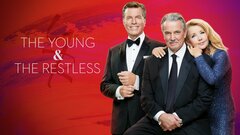 Powered by